Directory Of Year 2007, Issue 12
A Stately Tower of Immense Cultural Connotations
Year:

2007

Issue

:12
Column:

OTHERS
Author:
Release Date:

2007-12-01
Page:

83
Full Text: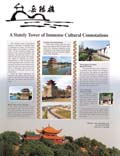 The Yueyang Tower (Yueyanglou) stands on the banks of Dongting Lake in Yueyang City, Hunan. It is one of the three towers most admired in southern China. Of the numerous articles and poems it has inspired throughout the dynasties, perhaps best known is the essay by renowned scholar Fan Zhongyan, written to celebrate the tower's reconstruction in 1046. It was the sentiment expressed within the work, "One should be the first to worry about the future of the state, and last to claim one's share of happiness," which carved for the tower its inalienable niche in Chinese history.
Since its recent expansion, the Yueyang Tower Scenic Area covers an area of more than 42 hectares, dotted with many new historic sites and scenic spots.

Watch Tower of Five Dynasties
The subtle refurbishments, carried out during the Tang, Song, Yuan, Ming and Qing dynasties, embody the Yueyang Tower's most fascinating aspects. They are examples of imperial architecture throughout these five epochs.
Corridor of Inscribed Steles
There have recently been 50 additions to the steles in this 240-meter aisle, which from overhead resembles a key. Inscriptions on the steles are the hitherto unpublished works of respected calligraphers of five dynasties.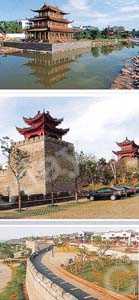 Shuanggong (Two Men) Memorial Temple
This Ming-and-Qing style structure is a memorial to the scholar Fan Zhongyan and his friend Teng Zijing, who sponsored the 1046 reconstruction of Yueyang Tower. It houses two exhibitions celebrating the history of the tower and the lives of these two historical figures. Among its exhibits are graphics, writings and documents that demonstrate the tower's historical, cultural and ideological significance.
The Lü Dongbin Memorial Temple
Lü Dongbin is a stock figure in Chinese folklore. The Chinese people have told and passed down tales of his three visits to the Yueyang Tower for generations.

New attractions in the Yueyang Tower Scenic Area include the Zhanyue (admiring Yueyang) Gate Tower, the archaic-fashioned turret, the Poetry Corridor and Yanhong Dyke.