Directory Of Year 2007, Issue 12
Beijing Yunfoshan Resort
Year:

2007

Issue

:12
Column:

OTHERS
Author:
Release Date:

2007-12-01
Page:

56,57
Full Text: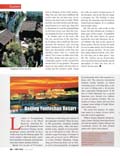 Located in Xiwengzhuang Town next to the Miyun Reservoir, Yunfoshan Resort is 80 kilometers from downtown Beijing, but the picturesque scenery and fresh air feel a world away from the bustling capital. The resort contains a three-star hotel, conference amenities, restaurants, and entertainment and outdoor sporting facilities.
Spread over an area of 67 hectares, Yunfoshan is built along the contours of the namesake mountain. There are nearly 300 guestrooms, including standard rooms, luxury suites, villas, and presidential suites, capable of accommodating up to 650 guests in total. The restaurants range from large to intimate in scale, and can receive up to 1,000 diners at a time. Sichuan, Shandong, Guangdong and Huaiyang dishes are on offer, as well as local specialties, all prepared by professional chefs with exquisite culinary skill. The extensive recreational facilities include karaoke, an indoor swimming pool, a bowling alley, a tennis court, a fishing park, a ski ground, and a man-made bathing beach. At the foot of Yunfo Mountain lies a natural limestone cave, formed over millions of years of natural evolution. The stalactites of various shapes and sizes form a unique scene telling of Yunfo Mountain's remote past.
The resort also features 19 conference rooms in a variety of sizes, all fitted with modern equipment.
With its unique character and picturesque charms, Beijing Yunfoshan Resort provides top quality, highly efficient and considerate service for both Chinese guests and visitors from abroad.
Tel: 86-10-89032601 89032602 89032255
Fax: 86-10-89032606 89031813
Website: www.yunfoshan.com
E-mail: BJYFS@Yunfoshan.com
Address: Xiwengzhuang Town, Miyun County, Beijing
Postcode: 101500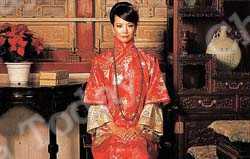 A rope of Fanghua pearls.
The distinguished Fanghua pearl brand has 20 stores across China. Fanghua has an ever-greater presence in the nation's luxury hotels, with outlets at the Grand Hyatt, Shangri-la and China World hotels in Beijing, and the Hyatt Regency, Sheraton and Shangri-La Golden Flower hotels in Xi'an. Fanghua's reputation for high quality and innovatively designed pearl jewelry has earned it an exclusive clientele that includes Margaret Thatcher, Tarja Halonen, Ludmila Putin, Cherie Blair and Mr. and Mrs. George H.W. Bush. Fanghua jewelry is created using both cultured and freshwater pearls in natural and colorful shades. Fanghua exquisitely presents the essence of Chinese pearl culture.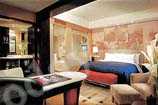 A guestroom at the Great Wall Sheraton Hotel, Beijing.
Enjoy a stay on the luxurious Elite Floor of Beijing's Great Wall Sheraton Hotel from November 16, 2007 to February 29, 2008 - at an especially comforting price. During this period, rates start from RMB 2,488 per night, and include Elite breakfast, round trip airport transportation, a complimentary happy hour, and a 24-hour butler service. Rooms and rates for a minimum two-night stay are subject to availability and an additional 15 percent service charge. Call 800 810 3088 (in China) or (86-10) 6590 5566 ext 2257 for reservations.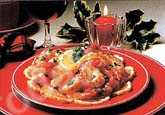 An example of the haute cuisine served at the Novotel Xinqiao Beijing.
You are cordially invited to the Beijing Novotel Xinqiao Christmas party this year, held in the hotel's Celebrity Hall and Coffee Shop. It promises to be a lively night, with a sumptuous feast, lucky draws, and live entertainment - all for just RMB 1,488.
The Goodies Counter and Gift Hampers are highly recommended.
Tel: (8610) 6513 3366 ext 1248
Fax: (8610) 6512 8902
Following establishment of cooperative ties last year, on October 12, 2007 the CTS HK Metropark Hotels Management Co. unveiled its eponymous scholarship at the Beijing International Studies University. The fund is expected to step up cooperation between business and academic circles within the tourism sector.
CTS HK Metropark Hotels Management Co. was founded in Hong Kong in 1985 by the 80-year-long established China Travel Service (Holdings) HK Limited. The group now has more than 30 hotels in Hong Kong, Macao and major commercial and tourist cities on the Chinese mainland, including the five-star Grand Metropark and the four-star Metropark.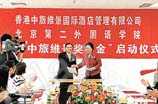 The inauguration of the CTS HK Metropark Scholarship.
The Chang Fu Gong Hotel offers diners a special preferential package with its Chang Fu Party Card, which gives cardholders up to RMB 2,800 worth of discount coupons.
The Chang Fu Easy Card brings a wide variety of rewards and more.
Please call 010-58775555 for more information.

The Chang Fu Gong Hotel discount Party cards.