Directory Of Year 2007, Issue 12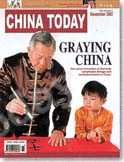 I took delivery today of China Today, my favorite magazine, and spent the whole night reading it. Many of its excellent articles left a deep impression on me. But the most impressive, from my point of view, was "Red Cadres Learn from the Stars and Stripes" in the Special Report, "Be an Official, Be a Student" (October 2007 issue). The comparison between meetings in the US and China, where the main difference is the time spent, is particularly valid. American people seldom, if ever, repeat what has already been discussed, other than to raise points on which they do not agree. They save time, whereas Chinese people waste it by repeating what is already established. This is just one example, but makes me realize how far we have to go before we can catch up with the US, despite plans to land on the moon. Our government really needs to improve its efficiency through serious restructuring. I would like to raise the suggestion that the magazine publish more articles, as in the past few issues, acknowledging and analyzing past successes and failures on the part of the government. I believe that this would help us to broaden our horizons and improve our overall intelligence. As an avid reader of China Today, I would enjoy articles that give more "food for thought." I would like to express my appreciation to the magazine's editors for their hard work that makes my life more meaningful.
As this year marks China Today's 55th anniversary I, as a reader and English teacher, would like to wish the magazine "Happy birthday!" China Today has witnessed the development of China; it is a window through which people at home and abroad can gain a better understanding of our country. My best wishes to all of you, and China Today forever!
Xiong Shizhong
China
The article "Imported Toys R It" in the October 2007 issue of China Today took me back to the time of the Hollywood action blockbuster Transformers, which smashed all Chinese box office records. Its success occurred at the time the Hasbro Transformer toys were selling like hot cakes, at prices ranging from RMB 20 to 10,000. Although all toy prices have risen in recent years, the Transformer range is still the most popular. To people of my age who were born in the 1980s, the Transformer toys are associated not only with recreation, but also with happy memories of our childhood and familial love.
Hubert Wang
Beijing, China
I really appreciated the article "Beijing's Most Senior Overseas Busy Body" about David Tool, a foreign teacher at BISU, in the September 2007 issue. I am greatly touched by his helpful deeds -teaching at BISU, correcting English signs around the city and helping the disabled community - and would like to express my respect for him. We should always show hospitality to such conscientious foreigners.
Chen Guofeng
Shandong, China
We welcome your letters!
Add: China Today News Center, 24 Baiwanzhuang Street, Xicheng District, Beijing, 100037
地址:北京市西城区百万庄大街24号今日中国杂志社新闻中心
邮编:10037
E-mail: chinatodaynews@yahoo.com.cn
Fax: 86-210-68320886