Directory Of Year 2007, Issue 12
The Price of a Better Life
Year:

2007

Issue

:12
Column:

COLUMNS
Author:
Release Date:

2007-12-01
Page:

4
Full Text: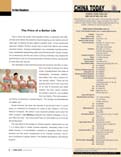 Life in China, the world's most populous nation, is generally more affluent than ever before. But since the onset of opening up and reform some 30 years ago, its citizens are also subject to greater strain. A more meritocratic approach enables Chinese people fully to exert their talents and achieve personal dreams. Growing marketization has remarkably boosted productivity, substantially augmenting public and individual wealth. Greater emphasis on democracy and the rule of law in China's institutions has enabled the government to bow out of the personal life of Chinese citizens, leaving them to make their own choices.
The downside to this enormous social and economic transition is manifest in sky-high housing prices, fierce social competitiveness that starts at kindergarten, increasing pollution, food safety risks, and a nascent social security system. These are the growing pains that China must bear on its road to economic and social maturity. But they cannot dampen the people's optimism, more justified than ever before. This is the paradoxical theme of December's Special Report, "The Swings and Roundabouts of a Better Life."
Social harmony has been the keynote of government work in recent years, as confirmed by President Hu Jintao at last October's 17th CPC National Congress, the nation's most important political event since the 2002 congress. Lars Mörking interprets this implicit message in his report "Mind the Gap - the Communist Party of China Steps out to Promote Social Harmony."
The new policy of tax rebates on Chinese exports, implemented on July 1, is a heavy blow to certain Chinese exporters, particularly those in the textile industry. It is nevertheless conducive to upgrading China's export structure and the sound development of the Chinese economy. This issue is examined in greater detail in "Tax Rebate Revocations Jolt Chinese Exports."