Directory Of Year 2007, Issue 12
Sci-tech Info
Year:

2007

Issue

:12
Column:

COLUMNS
Author:
Release Date:

2007-12-01
Page:

70,71
Full Text: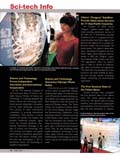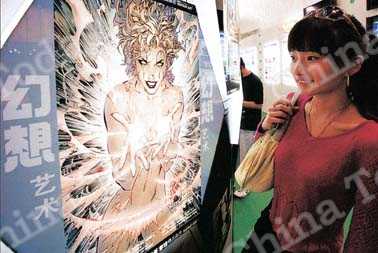 A display of computer-generated characters at the Beijing International High-tech Expo, showing how Chinese technology might be used in an international context.
Science and Technology: Pursue Independent Innovation and International Cooperation
At the 17th National Congress of the Communist Party of China in October, Deputy Minister of Science and Technology Li Xueyong declared that China's science and technology sector should pursue independent innovation, but not reject technology introduced from abroad, or resist international cooperation. In pursuing international cooperation, China believes in mutual benefit, and equality and respect, and protects intellectual property rights. China has enjoyed significant international information exchange in the field of science and technology with 152 countries and regions, and signed governmental cooperation agreements with over 100 nations. Chinese scientists have also participated in 350 international science and technology or academic organizations.
Science and Technology Guarantee Olympic Water Safety
China has set up a risk management control system to guarantee Olympic drinking water safety. An extensive network of fixed and movable drinking water purifiers and supply equipment has been designed to meet the diverse demands of Olympic venues. The "Study Project into Qualified Drinking Water for the Future Beijing Olympic Village and Demonstration Subdistricts" is the specialized research institution ensuring a safe Olympic water supply. The institute has developed new catalytic oxidation technology to remove micro-organic water contaminants and trace elements. They are also perfecting water quality stabilization technology for the water supply network, and have made breakthroughs in technology to remove arsenic, fluorine and nitrate traces from water.
China's "Fengyun" Satellites Provide Observation Services for 17 Asia-Pacific Countries
On October 10, 2007, China's "Fengyun" satellite system began formally providing observation services of the Earth for 17 Asia-Pacific countries. Switched to the "C" waveband and covering the whole Asia-Pacific region, it has become the regional link in a global observation system that encompasses the entire planet. The system's observation data is distributed throughout the Asia-Pacific region. Since being put into operation in 2005, the "Fengyun" system has broadcast 23GBs of data a day. Over 130 organizations utilize the system's data, in fields as diverse as meteorology, water conservation and agriculture. The information has provided enormous economic and social benefits by allowing more accurate weather forecasting, disaster monitoring and environmental observation.
The First Genome Atlas of the Yellow Races
Chinese scientists have completed the first genome atlas of the yellow races. The human genome atlas is known as "the second atlas of human anatomy," and is derived by analyzing the base sequence of 24 chromosomes. The atlas not only contributes to research "Fingerprint banking" has made ATM use easier and faster for Beijing Rural Commercial Bank customers. in the prevention of hereditary diseases amongst the yellow people, but also creates fertile ground for the development of new medicines and therapeutics. So. far, 2,000 genes have been found to be linked to human diseases. Of these, 1,500 have been applied in clinical diagnosis in the United States. Due to differences between the yellow and Caucasian races, China cannot imitate foreign diagnostic standards. The genome atlas of the yellow races is, therefore, of great importance to the Chinese people.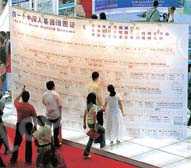 A recent display of the first genome atlas of the yellow races attracted many visitors.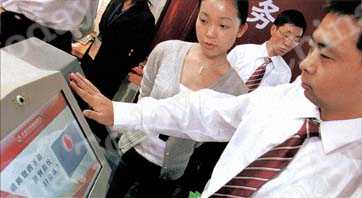 "Fingerprint banking" has made ATM use easier and faster for Beijing Rural Commercial Bank customers.
New Hope of Curing Cancer Discovered by Scientist of Chinese Origin
Dr. Cui Zheng, associate professor at Wake Forest University's School of Medicine in the U.S., has discovered that injecting healthy immunocytes into cancer patients can kill cancer cells. Born in China in 1956, Cui Zheng specializes in tumor biology. His research team distilled granulocytes from 100 volunteers including cancer patients, then mixed them with cervical carcinoma cells. The healthy people's cells in the experiment killed up to 97% of the cancer cells within 24 hours. With approval from the U. S. Food and Drug Administration, Cui Zheng has injected 22 terminal cancer patients with healthy granulocytes. The curative effects are being carefully observed.
Beijing Initiates Fingerprint Banking
Using nothing more than a fingerprint, Beijing Rural Commercial Bank customers can now pay fees and make transfers between accounts through ATMs, making life easier and saving on labor costs for the bank. Using a database of customers' fingerprints, advanced fingerprint identification technology allows ATM terminals to link directly with an individual's account information and carry out any business required. For key information like the amount of money in an account, the ATM only has the ability to check and confirm, but can't import and amend information, effectively limiting operational risks.
Ozone Action in China Wins International Affirmation
The State Environmental Protection Administration of China recently won the executive award of the United Nations' Montreal Protocol on Substances that Deplete the Ozone Layer. The Montreal Protocol was signed by 24 countries on September 16, 1987. Since acceding to the Protocol in 1991, China has eliminated over 210,000 tons of materials that destroy the ozonosphere, accounting for almost half the amount eliminated by all developing countries. "The Chinese government will take responsibility and meet its obligations to be cooperative, and continue down the path of ozonosphere protection," said Zhang Lijun, vice minister of the State Environmental Protection Administration of China.
China to Use "E-stamp" to Prevent Spam
The Internet Society of China is organizing the researching of an "E-stamp," which would be able to identify an e-mail's source and block spam. The "E-stamp" will distinguish commercial emails from spam, so as to better protect Internet users' interests and promote the development of the email industry.
College Undergraduate Invents a Water Extracting Machine
Chinese college undergraduate Jin Guoyong has invented a machine that uses electricity to extract 20 liters of water a day from the air, even in desert conditions. Air is sucked in through a copper tube and cooled through refrigeration. The hot air and cool air meet, forming water droplets on the outside of the tube, which then dribbles into a tank. The surplus cold air can also be used for refrigeration and air-conditioning purposes.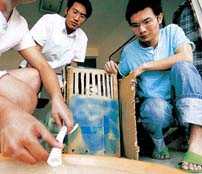 The machine invented by Jin Guoyong, which can extract 20 liters of water a day from the air. Photos by China Foto Press