Directory Of Year 2007, Issue 12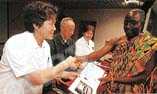 Sixty-one foreigners from 30 countries have graduated from Beijing Municipal Hospital of Traditional Chinese Medicine. The hospital's president is seen here awarding a certificate to a student from Ghana.
Chen Zhu: TCM May Influence Medical Models
The new minister of public health Chen Zhu says that traditional Chinese medicine (TCM) may have a big impact on the future of medicine generally. The differences between TCM and Western medicine are similar to those between traditional Chinese wash painting and classical Western oil painting; TCM considers the body in its entirety, while Western medicine focuses on specific parts. There are also many similarities between TCM's basic concepts and modem life science. "Combining modem biology and TCM in researching health and chronic complex diseases will be a trend in modem iatrology," predicts Chen Zhu. The minister believes that once the core ideas of TCM, such as integral concepts, syndrome-differentiation treatment and disease prevention, can be further annotated and enhanced, they will have a far-reaching influence on contemporary medical practice, medical policy and the pharmaceutical industry, leading to new reforms and innovations.
Zhou Ji Affirms Public Education
Minister of Education Zhou Ji recently affirmed that the principle of public education will be maintained in China, and spending on the sector increased. The year 2007 marks the 30th anniversary of the resumption of China's university entrance examinations. The country's higher education sector has advanced in leaps and bounds since that time, undergoing expansion and a marked improvement in teaching standards. The rapid development of higher education has been a significant cornerstone of China's modernization.
China's education minister says higher education will remain public. Photos by China Foto Press
Shang Fulin: China's Stock Market an Economic Weatherglass
Shang Fulin, chairman of the China Securities Regulatory Commission, claims that China's stock market has become the weatherglass of the national economy. The local stock market has undergone considerable reform in the past five years, and at the end of September 2007 its value was approximately RMB 25 trillion, placing it fourth in the world. As the Chinese capital market starts up, the quality of listed companies is being enhanced and the foundation of the stock market strengthened. At present, institutional investors make up 46 percent of China's capital market.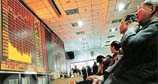 The Chinese stock market has become the weatherglass of the national economy.