Directory Of Year 2007, Issue 12
Yeah, Very Good
Year:

2007

Issue

:12
Column:

CULTURE
Author:

MARK GODFREY
Release Date:

2007-12-01
Page:

68,69
Full Text: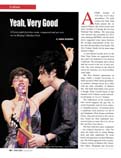 US post-punk favorites came, conquered and got very wet in Beijing's Haidian Park
AFTER months of will-they-won't-they speculation, US indie rockers the Yeah Yeah Yeahs played the inaugural Modern Sky Festival that took place October 2-4 during the five-day National Day holiday. The hour-long wait between the preceding Joy Division-admiring RETROS and the head-liners suggested some space between the on-stage requirements of the visitors and the preceding local bands. The New Yorkers finally hit the main stage around 9.10pm.
A rain-induced exodus prior to the Yeah Yeah Yeahs set suggested local fans aren't yet hardened to rock festival conditions. The downpour drove about half the crowd to the sea of taxis outside, who were relying on the festival crowd for business on a slow holiday week night.
The New Yorkers' appearance on stage ended a bizarre succession of build-up tunes; Phil Collins and R Kelly seemed a strange choice for a label with the indie credibility of Modern Sky. The Yeah Yeah Yeahs were up for it though. Band vocalist Karen O had learned a few Chinese words and belted off plenty of "xie xie" (thanks).
The enthusiasm of the mostly-student crowd suggests the gig was, in words frequently used by local cadres, a "complete success." It certainly drew a significant local audience for the O and bandmates Nick Sinner and Brian Chase, who paid no heed to the rain as they belted out their trademark nonsensical lyrics to tunes like Is Is, Down Boy and Show Your Bones.
The New York trio came, conquered - and enjoyed themselves. After the show the band told of eating Peking duck and their admiration for local bands and organizers on their MySpace site. The Yeahs appeared with a mostly-Chinese lineup of Modern Sky bands: New Pants, Hedgehog and newcomers My Little Airport. However, even though more foreign bands like the Yeah Yeah Yeahs are coming to China - propelled perhaps by pre-Olympics excitement - there hasn't been a dramatic growth in the number of decent Chinese outfits. Beijing's festival lineups this summer have all looked remarkably similar.
But Modern Sky was certainly this year's most affordable festival. Low ticket prices - RMB 60 a day compared to RMB 150 per day at September's Beijing Pop Festival - and the location in Haidian Park in the city's main university belt, ensured a good turnout. Locals made up 70 percent of the crowd. There were none of the ticket touts of the Beijing Pop Festival in the more salubrious Chaoyang Park, which featured lots of freeloaders selling their VIP tickets for RMB 200 at the gate. Bag ladies collecting plastic bottles, and the scent of lamb skewers and marijuana lent Modern Sky further credibility.
But who paid for it all? Probably the marketing departments of Levi's, MySpace and Motorola, all of whom paid to install marketing stalls on the festival site. Social website MySpace had a sizeable booth next to the Levi's stand, and Modern Sky tagged Levi's and Motorola as "partners" in their promotional material. In some ways the indie label, headquartered in a converted 1950s apartment block in an un-glamorous pocket of Beijing's northwest Haidian District, upstaged the Beijing Pop Festival, headquartered in more respectable digs in the heart of the CBD.
A local corporate presence was provided by Sculpting in Time, a chain of coffee stores set up by Taiwanese film graduate Jimmy Zhuang and his wife. The brand, whose outlets are larger and cosier than Starbucks' in China, had a large stall selling tea and coffee, though the proliferation of plastic-coated paper cups called into question the environmental credentials outlined in their festival program advertisement. Others with stalls included glossy local rock magazine In Music and Beijing heavy metal publication Painkiller. Disposable camera maker Lomography was another corporate presence, with a big, red-liveried booth manned by the Lomography Society of China.
No figures or arrangements for getting the Yeah Yeah Yeahs here have been disclosed - one imagines the Grammy-nominated New Yorkers don't come cheap - but Modern Sky have copped a lot of criticism for engaging in vanity lao wai (local slang for foreigner) projects, hiring foreign bands for gigs and recordings in China which have no sustainable impact on the development of the local scene. The money, says critics like Berwin Song in That's Beijing magazine, would be better spent finding and releasing quality local artists.
Sculpting in Time was inundated with customers as the rain spilled down on the last night of the festival. A lot of the corporate sponsors looked pretty glum, however, in the least glam-looking VIP tent, too far from the main stage to see anything and too scared of the rain to join the punters.
The choice of food vendors on the festival site - no camping allowed -was nothing if not colorful. What really stood out was the image of a smiling Middle Eastern-looking man, complete with red and white keffiyeh head dress, plastered over Arabic script above one of the food stalls. It all looked very exotic and drew an expectant crowd. The vendors, bearded Uyghurs from the western province of Xinjiang, sold the same lamb skewers found on many Beijing street stalls. True, no one does them like the Uyghurs, but what a smart way to draw a crowd!
Sales were brisk too in the plastic sheeted village constructed on a car park near the park's southern entrance. Huddled beneath a giant replica space rocket, the vendors sold the usual mix of T-shirts and CDs on offer at most Chinese rock bars. Yet the range of shirts and the quality of the designs - from kitschy Cultural Revolution-era motifs to go green environmental slogans and nifty takes on Kurt Cobain and local stars AK-47 - indicated that China's T-shirt makers are now as creative as they are prodigious. None of the foreign artists whose images and logos appear on these shirts will be getting any royalties from sales, but the uniqueness and cheapness of these items - average price RMB 50 - make them compelling buys for foreign fans. Out of the piles of secondhand and shop-cut CDs on offer I plucked Lipstick Traces, a two-CD set of Manic Street Preachers B-sides, for RMB 40. A good bargain, a good night. More credit to Modern Sky.