Directory Of Year 2007, Issue 12
Current Location:
English
»
200712
» 2007 China (Changzhou) International Animation and Digital Arts Festival
2007 China (Changzhou) International Animation and Digital Arts Festival
Year:

2007

Issue

:12
Column:

CULTURE
Author:

SUN SHUTING
Release Date:

2007-12-01
Page:

62,63
Full Text: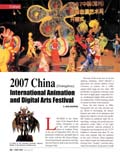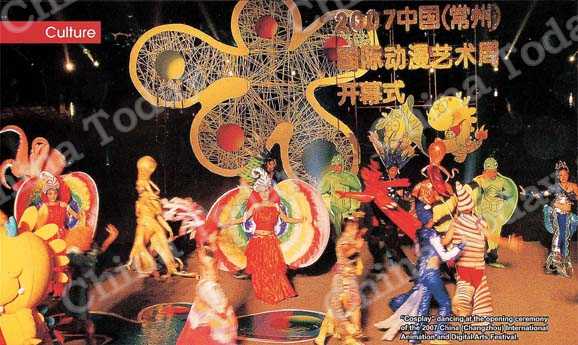 LOCATED in the hinterland of the Yangtze River Delta, Changzhou is one of the most prosperous places in southern China. At the end of September 2007, the city presented a brand-new animated face to the world, with the 4th China (Changzhou) International Animation and Digital Arts Festival, held in the local China Dinosaur Park.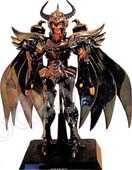 A model of the animated character "Wyvern Wings" in the festival's exhibition hall.
The tone of the event was set by the opening ceremony, which featured a panoramic live drama entitled Grand Ceremony in Lubura. On a 1,000-square-meter stage set over water, 500 performers in gorgeous costumes acted the roles of agile goats, coquettish foxes, stouthearted mighty birds and flowery tropical fish, vividly enacting scenes of natural harmony from antiquity.
Since the first festival in 2004, Changzhou has not only devoted major efforts to developing the intensification and scale of its animation and digital arts industry, but has also gradually formed an industrial chain for researching, creating and producing new animation works. Many of the high-rating domestic cartoons produced in Changzhou and broadcast by the CCTV Children's Channel and other TV stations were popular with the audience at this year's festival. These programs have helped inspire the fashionable performing form "cosplay" (costume play), which has become a lively part of youth culture, providing a stage for youngsters to showcase their personalities and acting talents by dressing up as their favorite animation characters. The cartoon works of children were displayed in the festival's exhibition hall, infusing the event with youthful vigor and vitality.
The festival drew famous cartoon organizations, scholars, publishers, distributors, purchasers, as well as related production houses from Asia, Europe and America. Over 200 enterprises from nine countries and regions including the U.S., the U.K., Spain and Hong Kong signed up 31 projects, generating a total trading volume of RMB 520 million.
As the only prefecture-level city designated a "National Animation Base" by the State Administration of Radio, Film and Television, Changzhou has won several honors since 2006, such as making China's "Top Ten Investment Creative Bases," being included in Jiangsu's "Modern Service Industry Cluster District" and being classified as an "International Service Outsourcing Demonstration Area." Changzhou Animation Base was also nominated as a "National Digital Entertainment Industry Demonstration Base" by the Ministry of Culture in 2007. Changzhou's animation industry has truly become the symbol of this vibrant, innovative 21st century city.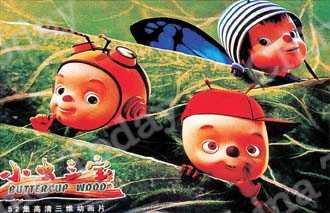 The 3D cartoon Buttercup Wood.