Directory Of Year 2007, Issue 12
A Long March in Tibet
Year:

2007

Issue

:12
Column:

CULTURE
Author:

XI WEN
Release Date:

2007-12-01
Page:

58-61
Full Text: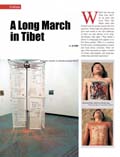 WHAT does the real Tibet look like?" As an artist who loves Tibet, Qiu Zhijie often asks himself and the people around him this question. "Some hope this plateau stays poor and rooted in the old traditions, so they can take photos of its original beauty," Qiu sighs. "They delete a photo if a telegraph pole appears in it. For these people, Tibet is a synonym for blue skies, stunning plateau scenery and local ethnic costumes. Their image of the autonomous region is based on books, photographs and paintings, rather than personal experience."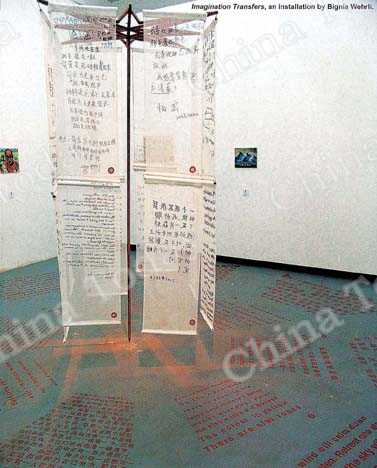 The Clichéd Image of a Pure Land
James Hilton's 1933 bestseller Lost Horizon portrayed Tibet as "Shangri-la" - an idyllic land nestled amongst snowcapped mountains, populated by people of different religions living in peace and harmony. This image is often reflected in paintings about Tibet, and for many outsiders is symbolized by forms of traditional Tibetan art such as mani stones (stones carved with Buddhist six-syllable prayers), strings of prayer banners (pieces of square cloth on which figures of Buddha and sutras are painted), prayer wheels, Buddhist pagodas and Tibetan Opera. These symbols help define Tibet as a pure, holy place in popular imagination. And although tourists have been flooding to the plateau since the Qinghai-Tibet Railway began operating in mid-2006, for many Tibet is little more than rosy-cheeked children with big eyes, wrinkled old people rotating prayer wheels, and wild yaks grazing the telegraph pole-free grasslands.
---
They spent one and a half months on the plateau and produced the report A True Shangri-la: An Investigation on Paintings about Tibet.
---
As an artist and Tibet enthusiast, Qiu Zhijie decided to try and correct this popular view. In April 2006 he headed for Tibet with some 40 students of the Zhejiang-based China Academy of Art. They spent one and a half months on the plateau and produced the report A True Shangri-la: An Investigation on Paintings about Tibet.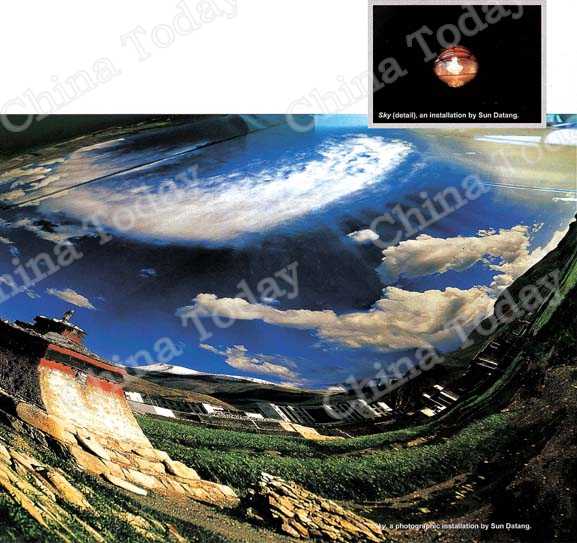 ---
The usual symbols and images associated with Tibet tell us little about contemporary life there.
---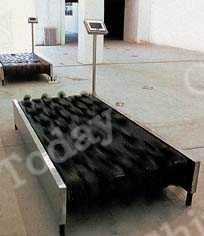 3,000-meter Straight up, a video installation by Liu Jiajing.
"I wanted my students to update their image of Tibet, so we went to the Tibetan people to seek their advice," Qiu explains. The investigation had two steps. First, Qiu and his students collected old paintings and compared them with other historical and cultural records to see if the artworks misinterpreted Tibetan realities; in the second step, students painted on the spot and asked local people for comments. This project was called "A Long March in Tibet," as Qiu regards the process of reinterpreting history and changing people's perceptions as akin to the arduous journey of the Long March. Supporters of the project considered it a good opportunity for future artists to shake off stereotypes inherited from their seniors of the so-called Shangri-la. "If we can't completely rid ourselves of the stereotypes rooted in our minds, then at least we can be alert to their effects," states Qiu.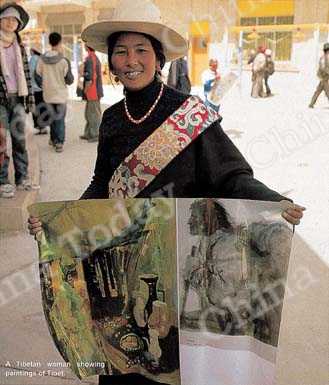 A Different Image of Tibet
The usual symbols and images associated with Tibet tell us little about contemporary life there. In studying existing art about the region, Qiu's students found painters were frequently influenced by the ideologies of their times. "The students found many paintings about Tibet fall into easy categories of concerns, like 'development in the new era,' 'a united nation,' 'the worship of primitive life' and 'an anti-modern attitude,'" says Qiu. These works are often more about "popular culture, revolutionary culture, national culture and the modern tourism industry than actual life in Tibet."
Like the rest of China, in the last three decades Tibet has experienced immense changes in the process of economic reform. Lamas use mobile phones, ride motorbikes and google subjects they are interested in. In Lhasa's bustling Barkhor Street, most of the Tibetan-style handicrafts sold to tourists are from Yiwu, a famous manufacturing city in China's eastern province of Zhejiang.
"Before I went to Tibet, I thought all Tibetans were pure, conservative and religious," says Liu Jiajing, one of the students who visited the area with Qiu Zhijie. Instead, she found people's lives there are not that different from those of the Han Chinese. People in "Shangri-la" are working hard to rid themselves of poverty and seek a modern life of affluence.
Liu Jiajing encountered few students wearing traditional costumes; berets and hip-hop apparel are more common amongst young male undergraduates. Even in remote cities, hotel hostesses spend their spare nights at local discos. Herdsmen dream of living in, or close to, towns, and few Tibetans are strangers to the Internet. Students and lamas alike are more concerned with exchanging OICQ numbers with visitors than discussing traditional lifestyles.
Another of Qiu Zhijie's students, Liu Tian, says of the Tibetan's attitude towards art, "The people here are concerned with the picture itself. They like natural scenes. For paintings that reflect figures and events, they pay more attention to the reality of the scene than the skill of the artist."
Fellow student Hu Yun concurs, "Tibetan people see the arts from an angle different to us." Hu was deeply impressed by local people's comments on his paintings. "The saying 'art is rooted in life, but is not life,' is conventional wisdom for us, so we don't care very much if works are loyal to 'reality.' But for Buddhist Tibetan people, art should be a true picture of real life."
Qiu Zhijie hopes that the report produced by him and his students has contributed, in a small way, to forging a more realistic and nuanced vision of a present-day Tibet where modernity and tradition coexist.