Directory Of Year 2007, Issue 12
Midnight Football Game
Year:

2007

Issue

:12
Column:

SOCIETY/LIFE
Author:
Release Date:

2007-12-01
Page:

48,49
Full Text:
Going for a header in a tense match moment.
FROM midnight to 2pm every Monday, Hanyang Jiangtan Football Field in Wuhan, capital of Hubei Province, is brilliantly illuminated. Under the lights, a crowd of nightshirt taxi drivers from the city's Hankou, Wuchang and Hanyang districts gathers for a weekly football match.
"I never guessed the drivers would respond so enthusiastically," says Ai Yi, initiator of the midnight game and anchorperson of Night Talk About Sports on Chutian Traffic Sports Radio Station. Since the game kicked off on July 15 this year, the number of participants has risen from 30 to 100, and is still growing steadily. The teams have purchased water jugs, training waistcoats and medicine cabinets, with all expenses shared between participants.
The oldest player is 52 years old. Game organizer Zheng Yuanping is 48. "It gets quite uncomfortable spending a lot of time in the taxi," says Zheng. "When I started playing, I couldn't even go for 20 minutes, but now I can run for 40 minutes without feeling tired," he says with a smile. "I gained 20 kg after driving nightshift taxis for eight months," says Ren Wei from Hankou District, "but since joining the taxi driver football team, I've lost 5 kg."
Drivers play enthusiastically and good moves draw rousing applause from the audience. "The drivers used to gather for a midnight snack," says Mrs. Wang, who comes with her daughter to watch the matches and cheer her husband on. "Now they play football, which is much better for their health, so we both want to support him."
At present there are 30,000 taxi drivers in Wuhan. Several major sporting events like the Women's World Cup and the Sixth National Urban Sports Meeting were held in the city this year, inspiring a fitness craze amongst local citizens.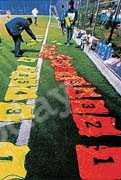 Specially purchased waistcoats spread on the field, ready for taxi drivers to wear.