Directory Of Year 2007, Issue 12
In Memory of Helen Foster Snow
Year:

2007

Issue

:12
Column:

SOCIETY/LIFE
Author:

CHEN XIUXIA
Release Date:

2007-12-01
Page:

46,47
Full Text: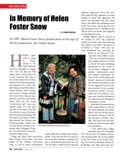 In 1997, Helen Foster Snow passed away at the age of 90 in Connecticut, the United States.
HELEN spent some 12 years in China, mostly in the 1930s. She first arrived in Shanghai in August 1931. The city, then the fifth largest port in the world, was to have been the first stop in her travels around the world in search of adventure and gathering materials for a book. She had already read Pearl Buck's classic Pulitzer Prize-winning novel about a Chinese farmer, The Good Earth. Beyond that, however, she knew little about China. She was the young "all-American girl" who even brought along her own golf bag and tennis racket. But she was anxious to learn. She had a sense of justice and strongly felt the natural and historic friendship between the Chinese and American peoples. Eager to be a writer, she first worked at secretarial jobs in Shanghai. There she met and married American journalist Edgar Snow.
Edgar and Helen both interviewed Mao Zedong, Zhou Enlai and other leaders of the Chinese Communist Party, as well as many revolutionary cadres, Red Army soldiers and common people. They were the first to convey to the world Mao Zedong's message calling on the Kuomintang to stop the civil war and form a united front to fight the Japanese aggressors. From the valuable materials they gathered in several months of travel and interviews, Ed wrote and published Red Star Over China, and Helen the companion book Inside Red China. Being the first foreign journalists ever to visit Bao'an and Yan'an, their two books were regarded as international scoops.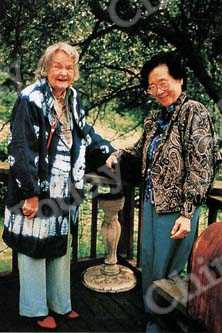 The author with Helen Foster Snow in the U.S.
During Helen's visit to Yan'an in the summer of 1937, she conducted several interviews with Mao Zedong, who spoke to her about "the nature of revolution in China." This trip was most educational and rewarding for Helen. In the foreword of Inside Red China, Helen wrote: "The rise of revolution among the multiple millions of China is one of the most interesting phenomena in the world. It has become a struggle of the greatest international social and political importance. To have lived in China during this historic moment is to have felt the forward movement of one of the mightiest forces of human freedom. It was a journey of discovery for me - of a new mind and a new people, creating a new world in the heart of the oldest and most changeless civilization on earth."
Helen left China and returned to the United States in 1941. In the years following her return, Helen's life was not easy due to the political climate in the US and personal economic hardship. She wrote over 40 books, mostly on China, but only eight were published.
I first heard about Edgar and Helen Snow in September 1937, shortly after the Japanese militarists launched their all-out war against China. The Snows were living in Beijing, but moved to Shanghai shortly after Beijing's fall. They gave many lectures in Shanghai about the situation in North China and the United Front that included the Communist-led Eighth Route Army. Of particular interest at that time to the Chinese, as well as the world at large, was information about the Chinese Communists and the guerrillas under their command, who Ed and Helen had both recently visited. While I couldn't attend those lectures because of my age, my father, my elder brother and some other friends told me about what they had heard and their impressions.
In 1960, Edgar Snow became the first American correspondent to visit the People's Republic of China post-war, thus continuing his role as a bridge-builder. He arrived in June and stayed for five months. It was on this occasion that my husband Chen Hui and I made Snow's acquaintance. We were both working in the Press Department of the Foreign Ministry. As assistant to Director Gong Peng, I was in charge of organizing and coordinating Ed's entire visit, and Chen Hui interpreted for him during his interviews with Mao Zedong in Zhongnanhai and Zhou Enlai in Beijing and on a trip to Miyun Reservoir.
I came to know more about Helen when I met Tim Considine and Loring Mandel, who came to Beijing in 1986 to interview people for a film based on Helen's book My China Years. As deputy secretary-general of the "Edgar Snow, Agnes Smedley and Anna Louise Strong Society," I helped set up interviews with Helen's contemporaries Yao Yilin, Kang Keqing and Wang Bingnan. I also accompanied Tim and Loring to these interviews. Since then, I have been involved in other projects linked to Helen, such as translating and publishing her works. Through these projects, I gained a deeper insight into her personality and philosophy, her knowledge of Chinese and world history, and her vision for the future. Though the film project was not realized, Helen was not discouraged, for she was well armed with a correct and in-depth understanding of China's realities and its people.
In June 1992, when I was in the United States, I called on Helen at her home in Madison, Connecticut, and met her for the first time. I told her that I knew Gong Pusheng (Kung Pusheng), who was once with the YWCA in Shanghai, and that I had worked for many years under Pusheng's sister Gong Peng in the Foreign Ministry of the PRC. They were both friends of Helen's from the Dec. 9, 1935-movement days. I will never forget the warmth with which Helen received me. I also took some pictures of her wearing the batik jacket that Gong Pusheng had given her.
---
During Helen's visit to Yan'an in the summer of 1937, she conducted several interviews with Mao Zedong, who spoke to her about "the nature of revolution in China."
---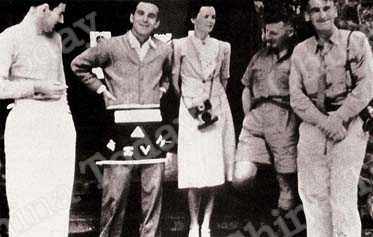 Edgar and Helen Snow (second and third left), and fellow writer Rewi Alley (second right) in the Philippines in 1940.
To honor Helen's unique and outstanding contribution to understanding China, the China Literary Foundation conferred on her the first ever "Literary Prize for Contributing to International Understanding and Friendship" on September 20, 1991, the day before her 84th birthday.
On June 12, 1996, Helen received an award from the Chinese People's Friendship Association with Other Countries for her lifelong dedication to advancing the cause of US-China relations by building a bridge of understanding and friendship between the two countries. When she received the award, she beamed with a smile and tears rolled down her cheeks at the same time. She said: "I love China. And it is my wish that China get better and better."
---
[注释]
CHEN XIUXIA is vice-president of the China Society for People's Friendship Studies.