Directory Of Year 2007, Issue 12
Returned Overseas Students Lose Their Luster
Year:

2007

Issue

:12
Column:

SOCIETY/LIFE
Author:

SI YAN
Release Date:

2007-12-01
Page:

44,45
Full Text: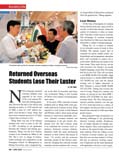 A business start-up fair for returned overseas students in Dalian, Liaoning Province. China Foto Press
NOT so long ago, returned overseas students were regarded as the cream of the crop among Chinese job-seeking graduates. Between the start of the reform and opening-up policy in 1978 and the end of 2006, a total of 1.067 million students went abroad to study. Those that have since returned amount to 275,000, a figure that continues to rise.
Wang Yafei was one of 20 Chinese students that went to study in the UK in 1987, according to an agreement between the Chinese and British governments. Wang was the first Chinese woman to be awarded an MBA in the UK. She is now in charge of international exchange and cooperation at the Guanghua School of Management at Peking University, and a respected figure in the field of securities and financial investment. Wang is also founder of China's first student vocational guidance center.
In the early 1990s, returned overseas students such as Wang Yafei were generally admired in Chinese society, being regarded as well versed in both Eastern and Western culture. Since study abroad became so much more attainable, however, returned overseas students are commonplace in the job market. Employers now see that overseas study is no substitute for overseas work experience. Returned overseas students, therefore, suffer the same job-hunting setbacks as their fellows that stayed at home. "As society and the economy develops, people on the Chinese mainland are changing their attitude towards returned overseas students who, in turn, no longer think of themselves as distinct from the general run," Wang explains.
Lost Status
Of the tens of thousands of students that go abroad each year, many enroll in second- or third-rate schools, where the quality of education is often no better than what they would receive at home. The advantage of overseas returnees may therefore be little more than that of being able to speak a foreign language.
Zhang Jin, 16, is about to embark on an extended course of study in New Zealand. His parents expect him to complete his senior middle school, undergraduate and postgraduate education there, and eventually to mature into a senior talent. Realizing this dream is far from cheap. They must first lay out the cash necessary for Zhang's six-month English language course that will equip him for his new life. This will cost them a cool RMB 48,000 (US $6,400). High school tuition is a further RMB 60,000 (US $8,000) per year, and the annual average cost of higher education in New Zealand is around RMB 80,000 (US $10,700). Taking into account the cost of living, Zhang Jin's parents can reckon on paying no less than RMB 1 million (US $130,000) for their son's overseas study. The New Zealand government permits students over the age of 16 to work part-time as a means of self-support, but this provides a level of income that amounts to little more than pocket money.
Recouping this huge investment is a daunting challenge to the job-hunting returned overseas student. Employers are no longer dazzled by foreign academic degrees. They want employees fit to take on the required tasks with minimum training. None are willing to hire a returned overseas student, any more than they are one that studied in China, that has no practical working experience. Employers are far more impressed with applicants who have work experience and personal ability than with those who are freshly graduated, no matter how prestigious their school.
Young people that choose to study abroad, however, believe that overseas life experience is of significance that goes beyond its superficial benefits. Li Qi was winner of a business start-up competition that qualified her for postgraduate study. Those around her generally believed that she had a bright future as long as she continued along what appeared to be her designated route of study. But Li was convinced that overseas study offered the best opportunities, both to obtain a degree and enrich her life experience. She eventually opted to study in the UK. Li is convinced that personal development occurs as a result of opportunity, personal ability and mindset. Opportunities are unpredictable, but it is possible to train personal ability through study and work. Li believes that improving the mindset requires seeking out new people within new situations.
Starting a Business
Li Kai was an excellent student at university and became a public servant after graduation. Soon afterwards he left to take up further study in the US. He returned, two years later, to a situation in China that had completely changed. After several fruitless job applications, he finally found work at an association directly under a ministry. Before long Li Kai discovered that his overseas experience had changed his outlook. Feeling that this bureaucratic job inhibited his personal development, he decided to resign and start his own business. This is the choice of an ever-greater number of returned overseas students.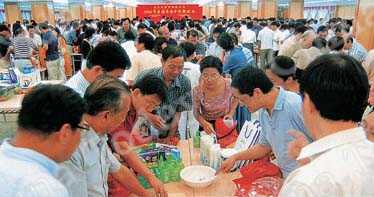 Returned overseas students who have set up businesses in Fujian Province get together to celebrate the Mid-Autumn Festival. China Foto Press
The All-China Youth Federation holds various activities and offers all-around services to returned overseas students in order to encourage them to set up businesses on home territory.
Implementation of a business startup plan for returned overseas students, in the form of 150 national-level high-tech zones in industrial parks, is planned in the coming years.
---
Top Five Vocations for Returned Overseas Students
Telecom

Chinese telecom companies make consistently high profits, particularly those working with the latest technology such as NGN, 3G and IPTV. This is one area that offers broad development space to returned students with knowledge of the latest overseas telecom trends.
Real Estate

Real estate and the building industry are deeply influenced by globalization. There are many vacancies within project management, engineering cost management and accounting for talents with at least one foreign language that are familiar with international conventions.
Finance

The Chinese financial market has gradually opened to foreign capital since China entered the WTO. There is a growing need for foreign financial savvy as foreign banks stream into China and joint venture funded companies increase. Professionals with an international background are sorely needed in this field.
Logistics

Logistics is regarded as the sunrise industry of the new century. Encompassing as it does transportation, storage, manufacturing and many other fields, logistics plays an important role in international conferences and fairs. As China hosts an ever-greater number of grand events, returned senior logistics talents are much sought after in this industry.
IT

E-commerce has been operating for some years in the domestic market, but could stand a great deal of improvement in certain aspects. Returned overseas students in the field are at a tremendous advantage, having been exposed to cutting-edge creativity and state-of-the-art theory.
A large proportion of returnees are also eminently suited to China's media and . emergent consultancy services.