Directory Of Year 2007, Issue 12
Gaomi - a Burgeoning City of Domestic Textiles
Year:

2007

Issue

:12
Column:

ECONOMY
Author:

YI FAN
Release Date:

2007-12-01
Page:

82
Full Text: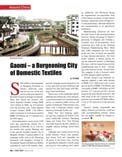 Downtown Gaomi.
SITUATED in the hinterland of Shandong Peninsula on China's north-east coast, Gaomi was one of the first towns in the area opened by the State Council to foreign investment. Since then Gaomi has boomed, with Gross Regional Product hitting RMB 15.81 billion in 2006, up 19.9 percent over the previous year. Total regional revenue reached RMB 1.38 billion, while investment in fixed assets reached RMB 10.9 billion, up 17.3 percent over the 2005 figure.
First designated a county some 2,200 years ago, present-day Gaomi has a population of 860,000. To its west lies the world's kite capital, Weifang, and to the east the beautiful seaside city of Qingdao. Gaomi's location makes it an important traffic hub on the Shandong Peninsula, with Qingdao's Liuting International Airport and Qianwan Harbor reachable by road in 40 minutes. Alternatively, Qingdao can be reached by rail in less than half an hour. Railways and expressways also link Gaomi with Weifang, Jinan and Rizhao.
Gaomi has a well-established utilities infrastructure (electricity, water and gas), a convenient postal and communications service, an extensive public service, and a green environment. These factors, combined with a temperate climate, make Gaomi an extremely livable city.
Puhui New Year Painting, paper-cut and clay sculpture all feature in the area's handicrafts tradition. Maoqiang Opera and Puhui New Year Painting were both listed in the first national intangible cultural heritage preservation project.
Although now mainly known for its textile industry, wheat, corn, peanuts, soya beans, fruit and vegetables are all grown in the Gaomi area. Varieties of agricultural industries include grape growing for wine making, beef, chicken, mulberries and silkworms. Being the experimental eco-agriculture base of the Chinese Academy of Agricultural Sciences, Gaomi has achieved high-level industrialization, internationalization and standardization in its agricultural production.
Manufacturing industries are now the main focus of the local government however. Taking advantage of Gaomi's proximity to Qingdao and utilizing a scientific view of development, local authorities have built up the Jiaodong Peninsula Manufacturing Base. More than 3,800 companies are now based in the city, four of which are regarded as large national enterprises. The local textile industry is ranked among the top ten industrial clusters of Shandong Province, with the largest home-textiles manufacturing base in Asia - belonging to the Sunvim Group - located here. The company is also a licensed maker of 2008 Olympic Games products.
Overall, Gaomi's top industrial enterprises attained a total sales income of RMB 35.67 billion last year, a gross pre-tax profit of RMB 2.92 billion, and a net profit of RMB 1.88 billion, up 40.9 percent, 47.7 percent and 44.3 percent respectively from the previous year. The total value of the city's imports and exports has now reached US $640 million, a rise of 18.3 percent over the previous year.
Gaomi's honest, responsible and highly efficient government, combined with accommodating policies, makes the city highly suitable for foreign investment.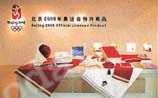 The Gaomi-based Sunvim Group is a licensed maker of 2008 Olympic Games products.