Directory Of Year 2007, Issue 12
New Roads to Prosperity in Central China
Year:

2007

Issue

:12
Column:

ECONOMY
Author:

LIU HUANZHI
Release Date:

2007-12-01
Page:

74-79
Full Text: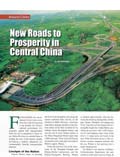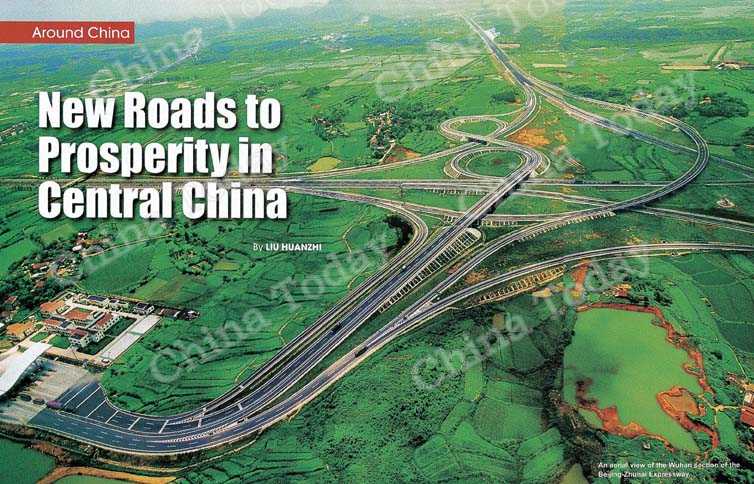 FACILITATING the development of provinces away from the coast has become a top priority for China's national government. It's generally agreed that transportation holds the key to prosperity in these areas. Hubei Province in central China is leading the way in this regard, rapidly developing a modern, integrated, environmentally friendly transportation network.
Linchpin of the Nation
Central China's hope of attaining the level of development seen along the eastern seaboard relies heavily on the situation in Hubei Province, which has long held a strategic position in the Chinese nation. It has been wrestled for by military forces throughout history, and was the site of many famous battles in the Three Kingdoms Period more than 1,800 years ago. There is an old Chinese saying that most roads and rivers lead to Hubei's capital, Wuhan.
Today the province sits at the crossroads of the Shanghai-Chengdu and Beijing-Zhuhai expressways, and the Beijing-Guangzhou Railway. Wuhan is situated approximately mid-way between the booming metropolises of Beijing, Tianjin, Shanghai, Chongqing and Xi'an. One-third of the Yangtze River's navigable length lies within Hubei, providing the province with 1,038 kilometers of vital shipping routes. Four of the river's 11 major ports are found in the area. With convenient access to this extensive riverine transport network and the sea, Wuhan is fast growing into a major shipping hub.
Lin Zhihui is the director of Hubei's Communication Department, the only woman to hold such a post in China. In August 2005 she delivered a report on the province's planned highway network to President Hu Jintao, and in April 2006 the central government released the report Opinions on Promoting the Resurrection of Central China, which explicitly stated that building an integrated transportation system is one of the keys to galvanizing the region. Hubei declared at the ninth provincial CPC congress in June, 2007 that it will consolidate its position as a central China transportation hub by building an efficient and safe network that incorporates railways, highways, aviation and riverine shipping.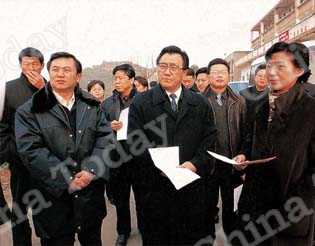 Ministerial leaders inspecting communication facilities in Hubei Province.
---
Central China's hope of attaining the level of development seen along the eastern seaboard relies heavily on the situation in Hubei Province, which he long held a strategic position in the Chinese nation.
---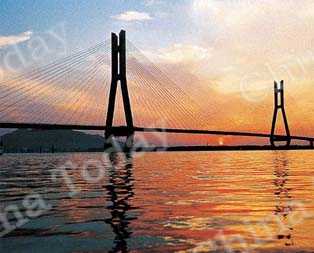 Junshan Highway Bridge on the Yangtze River, one of many bridges that span the river in H Province.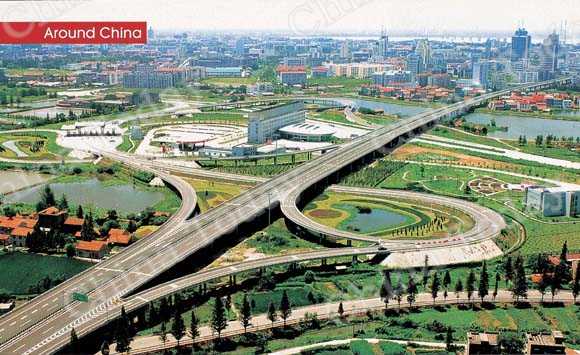 The Hubei section of the Erenhot-Guangzhou Expressway.
Expressway Maps Outdated in the Blink of an Eye
Roads are central to Hubei's development plans, as it is a time-tested rule that a region must build an extensive road network before it can expect an economic boom. Over the past five years the local government has invested RMB 115.7 billion in transforming the province's fixed assets of communication, twice the total investment made in the previous 53 years of the People's Republic. Investment for 2007 alone is expected to exceed RMB 30 billion.
Over the past five years 1,401 kilometers of expressways were built, and approximately 80,000 kilometers of pitch and cement roads were laid in rural areas. When describing how fast the local landscape is changing, Lin Zhihui says that maps of Hubei's expressways become outdated in the blink of an eye. This is barely an exaggeration. Since 1991, when Hubei built its first expressway - the 70 kilometer road from Wuhan to Huangmei - the province has expanded the length of expressways open to traffic to 1,747 kilometers, predicted to reach 3,500 kilometers by 2010. Centered on the capital Wuhan, the network sprawls across the province and into neighboring areas. As a result, it now takes a mere three hours to circle the province, and cities in neighboring provinces such as Changsha, Zhengzhou, and Jiujiang can all be reached within five hours. By the end of this year expressways will find their way into all Hubei cities and prefectures, except the wooded areas in Shennongjia.
---
In addition to the website, the department runs a 24-hour service hotline and a complaints hotline to field suggestions and heed public opinion.
---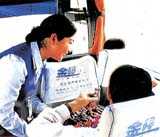 A comfortable ride on a Hubei train.
Since 2004 the province has been working on a "Pan-Wuhan circle," which will see the capital and eight neighboring cities interlinked by highways. Wuhan's outer ring road will be completed when Yangluo Bridge over the Yangtze opens to traffic at the end of this year. By then seven expressways radiating from the ring road will lead to neighboring major cities.
Besides facilitating regional travel, these roads escalate economic interaction between urban centers. Many big-name corporations have flooded into the area in the wake of the ongoing expansion of the expressway system, generating employment and spurring the local economy.
New Roads, New Services
With all these new roads and consequent expanding levels of traffic, the public demands a higher level of service from the local communication authority. Last year the Hubei Provincial Communication Department launched its interactive e-service platform (http://hbjt.gov.cn), offering route guides, updates on weather and traffic conditions, and a full range of information on public transport. It also operates a "Public Exchange" section, where people can communicate directly with the provincial transportation authority via the Director's Letter Box, or Online Interview, and also receive feedback. The website recorded more than 70,000 hits during the week-long National Day holiday in October.
In addition to the website, the department runs a 24-hour service hotline and a complaints hotline to field suggestions and heed public opinion. Expressway tolls, fees for water transportation and bus fare cards are all handled via computerized systems, bringing convenience to both passengers and public transport workers. And a video-audio conferencing system is now in operation, covering all 17 cities and prefectures in the province.
Hubei Provincial Communication Department has designated 2007 the year of innovation, and has been working to improve services in areas most relevant to people's everyday lives. Resultant programs and initiatives have included technical training on the construction of roads in rural areas, road safety projects, more guidance for the development of road and water transport in rural areas, control over the number of second-grade tollways and the number of toll stations on them, installing GPS systems in public vehicles, installing security systems in all passenger transport depots, promoting a one-stop service for transport administration, and upgrading the travel information service system.
Rural Roads Crucial to Provincial Prosperity
As in the big cities, transportation holds the key to prosperity in the countryside. Whenever a village is reached by highway, new buildings pop up, more public facilities appear, stores and factories open along the route and transportation businesses start. Yet like much of inland China, rural areas in Hubei have long been plagued by poor road conditions. To address this problem, the province has introduced tailor-made plans for countryside road construction, offering preferential policies for impoverished regions in the areas of appropriation, project allocation and technical support. Provincial authorities have set up a special rural passenger transport fund, provided training for approximately 1,000 rural technicians, and opened dozens of demonstration routes for passenger transport in the countryside. The Country Roads Regulations of Hubei Province, passed by the Provincial People's Congress this year, is China's first set of local laws governing rural roads.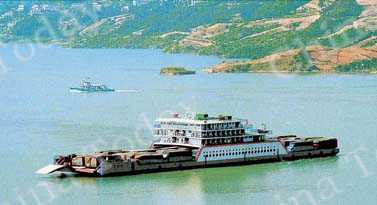 A roll-on/roll-off ship on the Yangtze River. One-third of the river's navigable length lies within Hubei Province.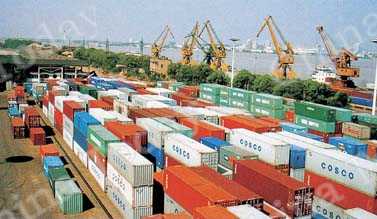 Wuhan has become a major shipping hub, as evidenced by the activity at the city's Hanyang Container Wharf.
These efforts have already brought tangible benefits to Hubei's rural population. One example can be found in Gaoshan Village in Xinzhou District, Wuhan. Dirt roads once turned the village into a quagmire whenever there was rain, making walking outdoors an ordeal. Blacktop roads have made such problems a thing of the past. To express their delight, many local families have hung signs at their gates reading "Good road, good mood; transport is well, all is well."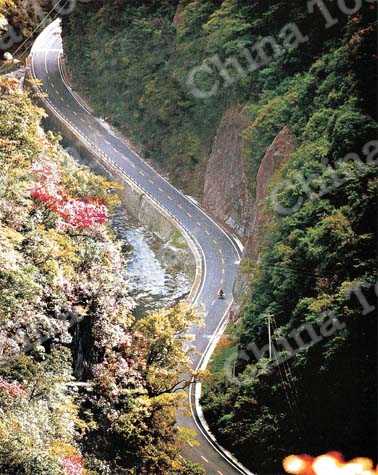 The landscaped tourist highway from Shennongjia to Yichang.
The industrialization of tea production in Wushan Town of Gucheng County, Xiangfan City, provides another example of the benefits generated by improved rural roads. The dispersed tea-growing fields in the area are now linked by modern roads, allowing the formation of an integrated tea growing base of 1,700 hectares. The town now bustles with hired laborers and tea traders from all over the nation. Across Hubei, local rural economies are similarly growing in leaps and bounds, with industrial parks and modern plantations mushrooming along the new byways.
Achieving Balanced Development
In constructing all this modern infrastructure, Hubei has striven to achieve a balance between expressways and country roads, road and water transport, road construction and management, and development and the environment. Local authorities have utilized science and technology in their planning and building, and have stressed respect for the law in developing the transportation sector. The management mechanism of the transportation budget has also undergone reform.
Since 2003, expressway construction in Hubei has been open to public and private investment from both within China and abroad. Local authorities have signed contracts for nine expressway investment projects, involving RMB 28 billion. And the province is the first in China to allow corporations to act as government trustees and operate the transportation projects they invest in.
Increasing attention is being paid to environmental friendliness and conserving resources in road construction, with the ultimate goal of achieving balanced and sustainable development of the region. The principle of environmental friendliness is paramount throughout the highway design, construction and evaluation process, so as to minimize the impact of human activities on the natural environment.
Glory Goes to the Rank and File
Behind the development of Hubei's communications and transportation sector is the toil of countless engineers and workers in the field. For those on the exploration and construction posts, it has been routine to work extra hours and on weekends. Workers may have to leave their families for a new project at any time, and are often away from home for months at a time.
Chen Gangyi, a senior engineer with Hubei Communications Planning and Design Institute, served two terms of four years in Tibet as personnel aid to the region. Despite a cancer diagnosis during his second term, he headed the design and construction of two record-setting projects on the plateau - Hubei Avenue and the Jiaolongba Bridge. Chen's deeds were reported nationwide via newspapers and the Internet, as well as being commended by state leaders.
There are also a good number of women working in the province's infrastructure sector, putting in efforts equal to, or even greater than, their male colleagues. Cheng Wu, for example, is vice commander of the Cuijiaying Navigation and Hydropower Project. She and her team set a record by dredging two million cubic meters for an open diversion channel within a month. Shen Xuexiang, vice commander of the middle section of the Suizhou-Yueyang Expressway, introduced the practice of allowing bidding on key provincial transportation projects without base prices.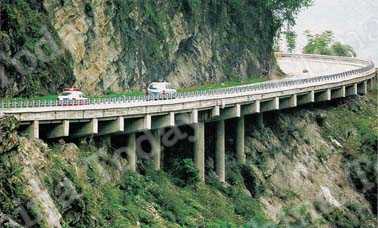 An ecological conservation demonstration road.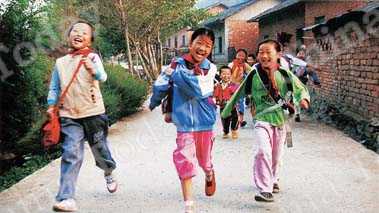 Cement roads have made life easier in Hubei's villages.
Hubei's dynamic development has caught the eye of state leaders. President Hu Jintao inspected the province, and listened to a report on its plan for an artery highway network. Vice President Zeng Qinghong delivered a speech to honor Chen Gangyi, and two Communication Ministers, Li Shenglin (incumbent) and Zhang Chunxian (former), inspected construction sites in the province.
In short, with coordinated efforts and shared determination, Hubei is steadily improving and constantly adding to its transportation network. Passenger and cargo flows are escalating, stimulating social and economic development, and helping Hubei secure its place in the regional and national economy.