Directory Of Year 2007, Issue 12
Holes in HR
Year:

2007

Issue

:12
Column:

ECONOMY
Author:

LANCE MAUGHAN
Release Date:

2007-12-01
Page:

42,43
Full Text: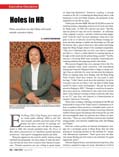 Three executives on why China still needs outside executive talent.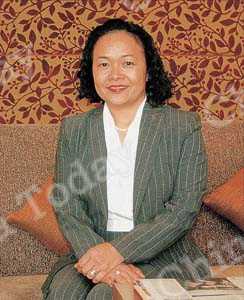 Barbara Leung Maradik, head of marketing for the Beijing Financial Street Intercontinental Hotel.
EVA Wong, CEO of Top Human, has a book and an "initial public offering" (IPO) to sell. The busy founder, president and head coach of Top Human has built a network of coaching centers around China, and will take her company public in 2008. Her recently published book, The Power of Ren, shows executives how to "transform yourself and those around you," and improve management quality and skills.
Wong has tapped into the need for quality training among mainland businesspeople who have plenty of cash and ambition, but lack the know-how to achieve their dreams of expansion. "Chinese executives are very willing to spend money on improving themselves." Executive coaching, a concept common in the US, is something the Hong Kong native, with businesses in Asia and North America, has pioneered on the mainland over the last ten years.
Clients pay between RMB 500 and US $2,000 an hour for coaching sessions, depending on the level of coach and client. As Wong notes, "A CEO will want the top coach." Top Human has plenty of copy cats on the mainland - an indication of the company's success - and their website has been plagiarized "word for word" by local operations. Some have even gone so far as to furtively record Top Human training sessions and then attempt to market the knowledge on CDs and the Internet. But a gap in know-how and market knowledge keeps the Hong Konger ahead of the mainland competition. "They don't understand that you don't just deliver a speech and that's it - there's a whole attitude in coaching that has to be right, in the coach and the person being coached." Top Human has a 30-strong R&D team constantly researching new coaching methods and analyzing results with clients.
PR executive Eugenie Kan is an example of how the Chinese mainland sorely needs executives with international training and exposure. Regional talent is happy to oblige, seeing China as a platform for career and personal development. When an opening came up in Beijing with the Hong Kong Trade Council where Kan worked, she was quick to pack her bags. "I didn't know much about the mainland, but given everyone's eyes are on China, I saw the need to better equip myself for future career development." She got the job and moved to Beijing in 2002. "I thought it would also be good to learn more about our motherland to stay tuned to the current trend. I truly believed working in China would only add value to my CV," says Kan, who majored in Communications at Canada's Vancouver University.
Three years working in Beijing overseeing all the PR and administrative issues of the Trade Council's representative offices in northern China proved an invaluable crash course in doing business on the mainland. Intensive traveling within the northern China region and liaising with locals got her up close and knowledgeable about the practices and cultures of mainland cities. "There are many different practices and mindsets among people, even between neighboring cities like Beijing and Tianjin."
From her current position as business development manager for a newspaper group in Hong Kong, Kan has been spotting an increasing demand on the mainland for "people with international experience." That's good news for Kan, who misses Beijing and will return to the mainland "if a good opportunity arises."
With her English fluency and international experience, Kan still has a competitive edge over locals. She believes it will be "a long time" before mainlanders can do her job. And given China's continuing boom, Kan predicts more Hong Kongers will follow her lead. Among executives contending for positions on the mainland, she feels Hong Kong people have the edge, "because of their basic understanding of Chinese culture, coupled with international experience and exposure."
In the hospitality sector, expatriates easily pick up management positions at internationally-run hotels because they have the training and work experience in international-standard establishments. "Locals don't yet have the connections and knowledge," says Barbara Leung Maradik, director of Sales and Marketing at the Intercontinental Hotel on Beijing's Financial Street.
Given that China will almost certainly become the world's largest source of tourists, and the most popular destination for international travelers, by 2020, a career in the hospitality industry seems like a good option for young Chinese, says Leung Maradik. After building up an impressive CV of experience over 20 years of sales and marketing in hotels throughout Asia and the US, she moved to Beijing to juggle roles at the recently opened Financial St hotel with her position as head of marketing for north China at the US-based Intercontinental Hotels Group (IHG).
Hong Kong may be a model for the mainland, as it builds establishments to match its rising popularity among business and leisure tourists. The Special Administrative Region has ten places in Travel & Leisure magazine's annual rankings of the world's top 100 hotels. The Chinese mainland has one. Front of house skills are especially important in getting more mainland establishments onto the list. "Reservation skills are really important - making sure they get the minor details right, like the credit card expiration date. Most people here have never had a credit card," says Leung Maradik.
A long tradition of hospitality industry careers has given Hong Kong an extensive talent pool in the sector. Leung Maradik studied hotel management and catering in Switzerland. "I was one of many Hong Kong people to train there. Switzerland was then seen as the place to go. It has one of the longest traditions of tourism in the world, so they have the greatest expertise in hospitality and tourism management."
For the foreseeable future China will need to employ expatriates to run its leading hotels. Leung Maradik's employer IHG recently opened an academy in Chongqing to train staff for a series of new hotels opening on the mainland; the company plans to have seven in Beijing alone by early 2008. It's all about service, says Leung Maradik. "From very basic skills to junior manager level, we have a lot of work to do." Training for mainland staff begins with the basic fundamentals: "Setting tables, folding napkins, cleaning and vacuuming - green, green people have to be trained in all these areas."