Directory Of Year 2007, Issue 12
Relocation Revitalizes Zuoquan County
Year:

2007

Issue

:12
Column:

ECONOMY
Author:

staff reporter LI GUOWEN
Release Date:

2007-12-01
Page:

40,41
Full Text: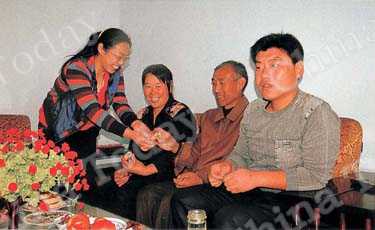 Liu Minghua with his parents and wife, Xiao Haixia, in their new home.
LIU Minghua sits comfortably in his new apartment in the Donggou New Village community. "Now that we have a heater we don't have to gather and burn firewood any more!" exults his mother. Liu's family moved into this bright, spacious apartment from the adobe house that had been their home for generations just two months ago.
The lives of 12,800 villagers have been similarly revolutionized by their move, over the past few years, into new, well-equipped housing.
Hobson's Choice
As the saying goes, east or west, home is the best. Leaving their old homes, albeit for a more modern, well-equipped alternative, was something of a wrench for all concerned.
Zuoquan County in Shanxi Province was a revolutionary base in the early half of the 20th century. Since then, it has lagged at least two decades behind China's more developed regions. "Zuoquan has a low population density," explains Sun Guangtang, secretary of the CPC Zuoquan County Committee. "Most people live in the remote mountains where living conditions, as well as the production capacity, are backward, and there is no highway or telecommunications access. The relocation project has helped to improve this situation."
For many farmers there is no other choice. "We cannot live off the earth, as hard labor brings scant returns," says Liu Minghua, depressed at the mere thought of his former life. "Most of the younger people have left to find work and settle in the city."
Laojing (Old Well) Village was the shooting location of Zhang Yimou's 1986 eponymous film, which was based on actual occurrences in the village. Its inhabitants were forced to collect rainwater for generations, as their 151 attempts to dig wells were fruitless, and cost dozens of lives. It was not until the late 1980s that potable water became available here. It was just a few years ago that the advent of public roads and telecommunications gave Laojing easy access to the outside world.
There are many villages scattered among the Taihang Mountain range that remain remote from towns and medical and educational facilities. "Huge sums of money have been invested in building infrastructure, schools and hospitals in small villages," says Wang Dongguang, head of Liaoyang Town, "but it would be unrealistic to improve conditions in every single inhabited area."
The county government has built 12 new villages and 27 communities since the year 2001, into which a total of 12,800 villagers have moved, according to local authority data.
The main destinations for immigrants are the county town and 34 key villages, where there are health and education services, as well as far better living conditions, according to the Zuoquan Relocation Plan (2003-2007).
Starting Life Afresh
A series of preferential policies ensures that immigrants suffer no financial loss. Immigrants retain the right to use land and forest in their former homes and are also allocated land on which to build new houses. Each former resident of villages included in the provincial-level plan qualifies for a RMB 3,000 subsidy; a RMB 2,500 subsidy is payable to those who have left villages that are part of the municipal-level plan.
Liu's family received a total subsidy of RMB 12,000, with which he bought an apartment in a new community. "It cost RMB 720 per square meter, which is RMB 300 below the cost of commercial housing. I chose to pay for it in installments," Liu confirms. "My parents plant corn and soybean in the three mu of land we still own in the old village. But it can also be converted into shares if the village is bought by investors."
Liu's apartment is also his new marital home. His newly wedded wife is a math teacher in the county town, while he works in the city. He pins much hope on the local economy. "Zuoquan is developing very fast and badly needs a work force. By next year I might not need to travel to the city for work."
Wang Zhiming, Liu's new neighbor, has bought a 200-square-meter, two-story house that has a street-facing shop front. His family lives on the second floor. Wang admits that this purchase took his entire life savings. He is confident he can recoup the cost from the hardware and convenience store that he plans to open on the first floor, along with the government tax relief that encourages relocated villagers to work in the service sector.
In nearby Shijia Town, 87 housewives have organized themselves into squads that pick sea buckthorn, a raw material that they supply to a local factory for making beverages. This earns them a useful RMB 3,500 per year. There are 26 factories in Zuoquan that provide similar job opportunities.
Farm Economy
Using the 9,150 mu of land and 330,000 mu of forest that the relocation project has freed is a key local government issue. "A couple of years ago we acted on the suggestion of combining small abandoned pieces of land into big farms," says Party Secretary Sun. "After the success of the pilot program we decided to put this plan into effect in 2005."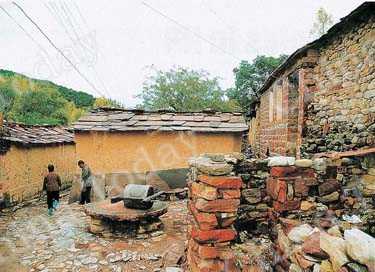 An old home in the remote mountain village of Laojing.
The government encourages investors to buy or rent expanses of land that can be developed on a large scale.
Xu Yangang, a graduate of Shanxi Agricultural University, is now general manager of the Lülong Landscape and Construction Engineering Company. He rents a 500-mu tract of land at RMB 350 to 400 per mu. Among the three categories of tree he plants are economic trees such as walnuts and timber forests. The most lucrative are those used for urban landscaping. In February 2007, Xu successfully bred a new species of walnut. After popularizing it on his own farm he introduced it to private farmers.
Zhao Baoming, founder of the Maofeng Company, owns a 50-year management lease on 4,600 mu of land. He obtained the land at auction after giving up his RMB 300,000 per year job at a refinery. "I plan to plant walnut on the abandoned land, and wild peach, wild apricot and locust trees on the hills," says Zhao, confidently. "The area will have a totally different look in three years. I plan to build 20 villas in the hills where tourists can come on weekend outings to enjoy the experience of fruit picking, and country life in general."
Zhao has invested almost RMB 2 million in the past year. "The first 500 mu of walnut trees will bear fruit in five years," Zhao says, with satisfaction. "An annual production of 100,000 kilograms will earn me more than RMB 1 million - an amount that will double during the full fruition period. In ten years' time my 2,000 mu of timber forest will be worth a fortune."
There are currently 39 farms in Zuoquan, but its ultimate plan is to boost this number to 300 by means of grants and encouraging investments by enterprises and individuals.