Directory Of Year 2007, Issue 12
Huge Potential for Sino-Italian Economic Partnerships
Year:

2007

Issue

:12
Column:

ECONOMY
Author:

staff reporter LIU QIONG
Release Date:

2007-12-01
Page:

38,39
Full Text:
"In the past, many presumed that prosperity could only be found in China's Yangtze River Delta and metropolises such as Beijing and Shanghai, but realized how wrong they were when they actually came to China. The government's current Western Development Campaign offers many fresh opportunities for Italian investment. I often suggest to Italian investors coming to China, don't just visit the big cities, but also fledging ones such as Chengdu, Chongqing and Xi'an."
- Antonio Laspina
Commissioner Laspina of the Italian Trade Commission's Beijing office speaks about China's international trade balance and the export tax rebate.
China Today: According to statistics from the General Administration of Customs, the value of China's foreign trade reached US $1.76 trillion in 2006. EU figures show that this year China overtook the UK for the first time as the largest exporter to European nations. Its exports to the region have increased by 25 percent, demonstrating strong momentum for faster growth. What's your opinion on China's trade surplus with Europe?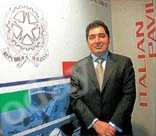 Commissioner Laspina of the Italian Trade Commission Beijing office.
Mr. Laspina: The surplus is no surprise. It is a result of the competitiveness of Chinese products, which largely derives from China's low labor costs. The huge surplus China now holds in international trade may not last long however. The competitiveness of Chinese products will ebb with the surge in labor costs. On the other hand, Chinese manufacturers and exporters will shift their focus from sales figures to the quality of their products. Meanwhile, with deeper pockets, Chinese people can now afford luxury goods from Europe that they couldn't before, such as Italian furniture. This growing demand will definitely stimulate Chinese imports from Europe. But these changes will of course take time.
CT: China's Ministry of Commerce announced this year a new export tax rebate policy applicable to many products from July 1. The new policy is regarded as the latest attempt by the Chinese government to reduce its international trade surplus and ease conflict with its trade partners. What's your view on this?
Mr. Laspina: We welcome this move by the Chinese government, and look forward to more efforts to extend the turf of fair play to all aspects of China, not only in economics and trade, but also food safety.
CT: China and Italy have long maintained a good economic partnership. What do you regard as the complementary aspects of the two economies?
Mr. Laspina: The Chinese and Italian economies are highly complementary. Italy has mature and developed industries, and is a world leader in many products and technologies. For instance, Italy has a sublime machinery and apparatus industry, which provides strong support for other industrial sectors. Without fine equipment, no industrial sector can compete on the world market. China has cheap labor and an enormous market, which we regard as the most important market in the world. In terms of textiles, my commission carries out a different strategy to that used in other sectors. The reason is that China has a strong apparel manufacturing industry, so the commission has ardently promoted joint ventures and cooperation between Chinese and Italian enterprises. We expect to see garments that fuse Italian designs with Chinese manufacturing, which can meet demand in the Italian and Chinese domestic markets and beyond.
---
The Italian Trade Commission (Instituto nazionale per il Commercio Estero) opened its Beijing Office in 1965. It is an Italian government agency dedicated to promoting business opportunities for Italian enterprises in China and Sino-Italian trade. Aside from its original Beijing office, the ICE has so far established five additional offices across China, in Shanghai, Guangzhou, Nanjing, Chengdu and Hong Kong.