Directory Of Year 2007, Issue 12
Solace for an Ailing Matriarch
Year:

2007

Issue

:12
Column:

SPECIAL REPORT
Author:

staff reporter HOU RUILI
Release Date:

2007-12-01
Page:

30,31
Full Text: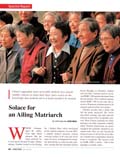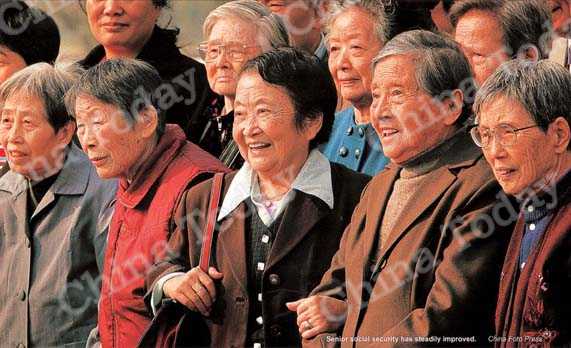 China's upgraded, more accessible medical care system enables citizens to enjoy their later years secure in the knowledge that medical aid is at hand should it be needed.
WIDOW Guizhen, aged 80, suffers from high blood pressure. She has taken medicine for it every day for the past 30 years. Before retiring, Guizhen worked at the Beijing No. 1 Rubber Plant, which reimbursed all her medical expenses. As from 2001, a national medical insurance scheme covering workers in all cities and towns came into force. It designated five hospitals specializing in cardiovascular problems, among them the nationally famous Fuwai Hospital, as Guizhen's medical care providers. Guizhen receives an annual RMB 1,284 medical allowance from the government. If her medical expenses exceed RMB 1,300 in one year, she receives a 90 percent reimbursement of all amounts paid out of her own pocket.
Guizhen recently had a stroke that left her partly paralyzed. Her doctor prescribed massage and light physical exercise as part of her recuperative process. Most Chinese hospitals are sorely lacking in the field of geriatric rehabilitation. Existent departments are poorly equipped and generally manned by untrained staff. They are also beyond the financial reach of all but the most affluent. Guizhen has consequently stayed at home to recuperate. Her daycare costs are RMB 2,000 a month - half of her daughter's monthly salary.
Guizhen was widowed 15 years ago. She has a man-friend, Old Gao. As he spent his working life doing mainly casual jobs, rather than at a fixed work unit, he receives no pension and has no medical insurance. Old Gao is also unmarried and childless. He lives on the government RMB 330 per month subsistence allowance.
Guizhen and Gao have been friends for a dozen or more years. They have never talked of marriage, not because they don't want to, but because of mutually understood practical issues. If they were to marry at such an advanced age, Guizhen's family would be responsible for Old Gao's medical expenses. This is a financial burden neither is willing to impose.
Hope arrived last autumn, when the neighborhood committee told Old Gao about the new medical insurance program for the aged and minors that became available from October 1. Those among Beijing's elderly that lack medical insurance qualify for this new project on payment of RMB 300 per year. It provides a 60 percent reimbursement of medical expenses in excess of RMB 1,300. Old Gao signed up immediately.
This gave Old Gao and Guizhen the assurance they needed to marry. With Old Gao to look after her, the bedridden Guizhen looks set to make a rapid recovery.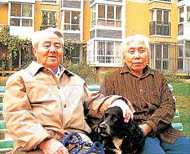 Old Gao and Guizhen. Dong Ning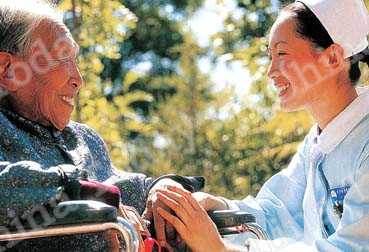 A resident and nurse at Beijing's Songtang Hospice.
---
The Medical Care System in China

China's medical guarantee system began in 2001. It takes the form of medical insurance that covers workers in all cities and towns. The new type of insurance crucial to the needs of China's 900 million rural residents, however, did not come into effect until 2004. Medical guarantee coverage, as initiated by the State Council on a trial basis, covers 79 cities and counties. It is about to be extended to the whole country. The entire Chinese population, therefore, will soon be covered by medical insurance.
The 1.467 million elderly and children covered by Beijing's new insurance program include students, pre-school children and 294,000 elderly, all of whom are permanent residents.
Accelerated Establishment of a Geriatric Medical and Healthcare System

1. The current elderly health care program is administered on a community basis, taking the family as a basic unit. It provides a wide range of follow-up medical and health care, including medical treatment, disease prevention, recuperation, and health consultations. Its objective is to raise the health level of the local population. Medical personnel now provide a door-to-door consultation' service, rather than waiting for patients to come to them.
2. The current three-tier medical service network is to be fully utilized, with emphasis on the special needs of the aged.
3. Increased efforts to train medical personnel specializing in geriatrics, as well as generally qualified medical workers, are being made.
4. The key task within the geriatric medical care system is to strengthen monitoring of age-related injuries and chronic diseases.