Directory Of Year 2007, Issue 12
A Decade of Stockholding
Year:

2007

Issue

:12
Column:

SPECIAL REPORT
Author:

staff reporter LIU QIONG
Release Date:

2007-12-01
Page:

21-24
Full Text: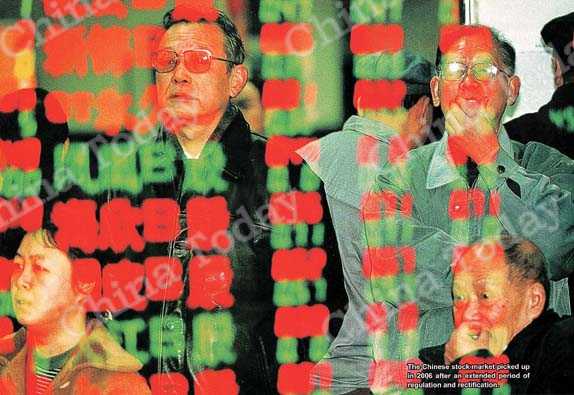 Consistent strengthening of stock market regulation and order is making Chinese investment behavior less speculative and more rational. By October 2007, the stock market index had skyrocketed to 19,000 points from its early 1996 low of 924.33 points. China's sustained 9 percent or more annual economic growth is an acknowledged factor in this huge rise.
LIU Bing is reticent about how much he has actually made on the Chinese stock market in the past tumultuous decade. "I invested here and there over the years without keeping an exact record of exactly how much I put in," Liu recalls. But he does admit to having done well in the bull market of 2006. "My stock assets are now almost triple what they were in early 2006," he says, with evident satisfaction.
Having experienced ups and downs on the market throughout the decade, Liu Bing now appears immune to its caprices.
"The First Crock of Gold"
Liu Bing entered the stock market in 1996, at the time he worked at the Shenzhen branch of a Hong Kong real estate company. Hong Kong's imminent return had a positive effect on the Shenzhen stock market, evident in its successful rallying after a three-year-long bear market.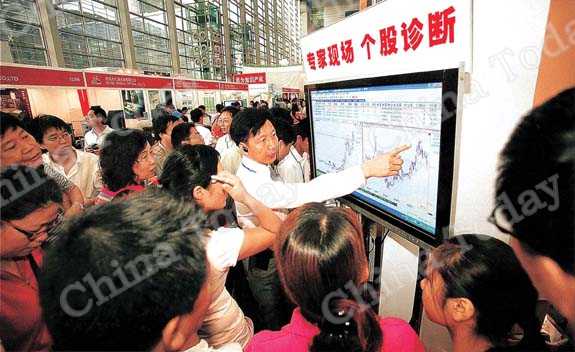 There is generally standing room only at onsite security company stock investment lectures.
Both the Shenzhen and Shanghai Stock Exchanges were established in late 1990. By early 1996, the Shenzhen Stock Exchange index had fallen to an all-time low. After the Spring Festival (or Lunar New Year) of 1997, however, it began gradually to rise. "The market environment created by Hong Kong's prospective return in 1997 is comparable to that engendered today by the Beijing 2008 Olympic Games," Liu Bing observes. Encouraged by the bull market, and swept up in the generally speculative mood of his fellow local citizens, Liu Bing invested all his savings, despite knowing next-to-nothing about stocks or stock market dealings.
---
As the majority of Chinese stockholders are completely new to the game, they are excessively speculative, reacting to the slightest market fluctuation.
---
The "rookie" investor Liu Bing made frequent buying and selling transactions. As a result, he recalls, "The money I actually earned was insufficient to pay the necessary transaction fees and taxes." This is a mistake that distinguishes new investors. Liu Bing points out, "As the majority of Chinese stockholders are completely new to the game, they are excessively speculative, reacting to the slightest market fluctuation. The annual stock turnover rate on longer-established foreign stock markets is less than 40 percent, while China's is more than 600 percent - a 15-fold disparity."
Liu was lucky enough to have entered the stock market and earn his "first crock of gold" while it was on an upward curve. From April 1 to December 12 of 1996, the Shanghai Stock Exchange (SSE) Composite Index rose by 124 percent, while the Shenzhen Stock Exchange (SZSE) Component Index went up 346 percent. The prices on 100 stocks rose by 500 percent or more. Such fortuitous circumstances made it difficult not to make a profit. Liu remembers clearly his first stock transaction: "I bought Sihuan Biology, trading code 0518, at RMB 1.38 per share. It's now worth more than RMB 10." Ten years on, Liu is so familiar with the stock market that he knows practically all the stock trading codes by heart.
Market Regulation
Liu Bing has also experienced losses on certain transactions. The most financially damaging was his purchase of ST Jiuzhou stocks at RMB 30 per share. His decision was based purely on the rumor that the stock belonged to the relative of an important central government leader. ST Jiuzhou dropped to RMB 16 the next day and never picked up. It has since disappeared from sight on the market.
As Liu Bing recalls, "The stock market was in disarray at the time, which made small individual buyers like me very vulnerable. Institutional players and big investors manipulated the market at the cost of small private investors in order to achieve big profits. Much malpractice occurred, such as illicit utilization of funds raised on the stock market by listed companies, and information leaks."
These were the dark days preceding the 2001-2006 stock market rectification. The China Securities Regulatory Commission was established in 2001. Its first task was to crack down on crafty stock manipulators. The Commission's unremitting efforts resulted in the exposure and penalization of dozens of listed companies. The Commission also regulated information disclosure by listed companies, standardized their entrusted financial management and established a delisting procedure. The stock market remained stagnant during the rectification period, which effectively rendered Liu Bing and other stockholders dormant. But he never lost hope, realizing that he and other individual investors stood to benefit from rectification.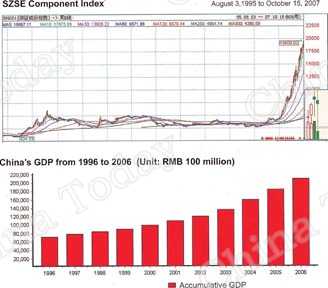 Liu Bing discusses market trends with fellow stockholders.
The luckiest year for Liu Bing and other individual stockholders was 2006. That was the year the Chinese stock market took a crucial upward turn after an extended period of stagnancy. It was also in 2006 that the substantially revised Security Law and the Company Law of the People's Republic of China came into effect. Amendments to the Security Law enabled establishment of a legal framework for stock market innovation, and adjusted the scope of derivative securities. It also extended the scope of products on the market, and expanded channels through which legitimate funds could enter the capital market. This made it possible for institutional investors, such as state-owned enterprises and holding companies, to buy and sell stocks. The year 2006 also saw a 130.43 percent rise in the SSE Composite Index, and a 132.12 percent rise in the SZSE Component Index.
An Economy That Merits Long-Term Investment
The names Lin Yuan and Yang Baiwan, both Chinese stock market "stars," frequently crop up in Liu Bing's talk with this reporter. Lin entered the stock market in 1989, armed with the RMB 8,000 that his whole family had scraped together. Today, his wealth is valued at RMB 2 billion. Yang Baiwan is also a pioneer individual investor, whose opening investment capital was a mere RMB 2,000. At the time other investors thought of tens of thousands of yuan as undreamed of riches, he was already a millionaire. The success stories of these two perspicacious investors motivate many ordinary citizens to venture into the stock market.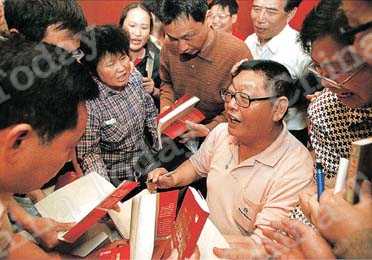 Well-known pioneering stockholder Yang Baiwan at the book signing ceremony for his latest work, in which he shares his broad stock investment experience. Photos by China Foto Press
During the first quarter of 2007, a record 4,785,900 newly opened A-share accounts were registered on the stock market. This is an amount in excess of the entire 2006 annual total, according to statistics. Many of these new stock market players are retirees. Liu Bing has made acute observations on the paradoxical nature of senior spending behavior. He points out that these venerable citizens live a frugal life, thinking nothing of bargaining with a street vendor for 10 minutes over fractions of a yuan. Yet they don't bat an eyelid at the prospect of throwing their life savings of tens, or sometimes hundreds, of thousands of yuan into the stock market. Senior investors shop around several markets before buying the best and cheapest vegetables. But they plunge headlong into stock market transactions without even taking the trouble to read up on the listed company in whom they have invested. They begrudge paying one yuan for a copy of the security market newspaper, but do not hesitate to pay out tens of thousands yuan for an investment that could lose them everything.
"These instances demonstrate just how irrational Chinese investors are, and how far they have to go before they can begin to understand even the fundamentals of financial management," Liu Bing remarks. He goes on to point out that these forays into the stock market indicate a growing awareness of the need to manage family finances, which is an encouraging development. As Liu observes, "In the past, the majority put their money in the bank, unaware that letting funds lie idle is a waste of social resources."
Liu Bing's conclusion after his ten years as an individual stock market investor is that long-term investment is reliable as long as the investor has confidence in the Chinese economy. He cites as an example a friend who bought stock worth RMB 100,000 in 2003. He left it undisturbed until recently, asking Liu where the relevant security company had moved to. He subsequently discovered that the value of his account had doubled and redoubled.
"The Chinese economy is experiencing healthy development, as indicated by an annual growth of more than 9 percent. The SSE index is sure to climb to 6,000 points before the 2008 Olympics." This was Liu Bing's prediction in early 2007, when the SSE index was dallying at around 4,000 points. At the time of writing this report - 10 months away from the start of the Beijing Olympics - the SSE index stands at 6,100 points.
Economic Growth Rates of Major Countries and Regions in the World (%)
| | | | | | | |
| --- | --- | --- | --- | --- | --- | --- |
| Country/Region | 2002 | 2003 | 2004 | 2005 | 2006 | Average annual growth |
| World total | 3.1 | 4.0 | 5.3 | 4.9 | 5.4 | 4.9 |
| Developed nations | 1.6 | 1.9 | 3.3 | 2.5 | 3.1 | 2.7 |
| U.S. | 1.6 | 2.5 | 3.9 | 3.2 | 3.3 | 3.2 |
| E.U. | 1.4 | 1.5 | 2.6 | 1.9 | 3.2 | 2.3 |
| Japan | 0.3 | 1.4 | 2.7 | 1.9 | 2.2 | 2.0 |
| Developing nations and regions | 5.0 | 6.7 | 7.7 | 7.5 | 7.9 | 7.4 |
| China | 9.1 | 10.0 | 10.1 | 10.4 | 11.1 | 10.4 |
| Hong Kong SAR | 1.8 | 3.2 | 8.6 | 7.5 | 6.8 | 6.5 |
| Taiwan Province | 4.2 | 3.4 | 6.1 | 4.0 | 4.6 | 4.5 |
| Republic of Korea | 7.0 | 3.1 | 4.7 | 4.2 | 5.0 | 4.2 |
| Singapore | 4.2 | 3.1 | 8.8 | 6.6 | 7.9 | 6.6 |
| Malaysia | 4.4 | 5.5 | 7.2 | 5.2 | 5.9 | 5.9 |
| India | 4.3 | 7.3 | 7.8 | 9.2 | 9.2 | 8.4 |
| Russia | 4.7 | 7.3 | 7.2 | 6.4 | 6.7 | 6.9 |
| Brazil | 2.7 | 1.1 | 5.7 | 2.9 | 3.7 | 3.3 |