Directory Of Year 2007, Issue 12
Housing Prices Beyond the Pale
Year:

2007

Issue

:12
Column:

SPECIAL REPORT
Author:

staff reporter LI YAHONG
Release Date:

2007-12-01
Page:

18-20
Full Text: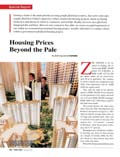 Owning a home is the main priority of young people planning to marry. Just a few years ago, couples flocked to China's impressive urban commercial housing projects, intent on buying brand new apartments in which to commence married life. Reality, however, has effectively dampened this ambition. Most are now content to buy either an owner-occupied apartment or one within an economical government housing project. Another alternative is renting a home within a government-subsidized housing project.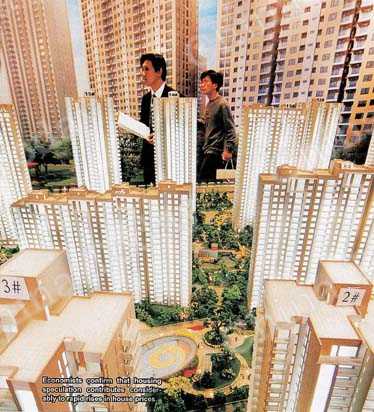 ZHU XINTAO is an engineer in Beijing. He recently paid RMB 720,000 (about US $100,000), or RMB 8,300 (US $1,100) per square meter, for an owner-occupied 86-sq-m apartment. The complex in which it stands was completed in late 2004, when apartments sold for RMB 6,000 per square meter.
Zhu, with the help of his parents, placed a RMB 300,000 down payment on the apartment of his choice and took out a 20-year, RMB 400,000 mortgage. RMB 2,000 of his 7,000 salary is paid to the bank each month.
The second quarter real estate price index from the State Development and Reform Commission of August 13, 2007 indicates that the average house price in 70 large and medium-sized cities rose 6.3 percent in the space of one year. The steepest rise - 14.3 percent - occurred in Shenzhen, while house prices in Beijing rose by 9.5 percent.
Mortgages have climbed at a similarly alarming rate. Since its first increase in a decade of October 2004, the People's Bank of China interest rates have risen a full nine times.
When Zhu Xintao married three years ago, housing prices in Beijing were already on an upward trend. Having decided to "wait and see," the newlyweds moved in with Zhu's parents. But in the years that followed, prices continued climbing at a two-digit rate. As prices were plainly not about to fall, the young couple decided to dive into the property market rat-race.
Zhu and his wife began house hunting last year. They spent their weekends visiting various housing projects around the city, and saw 20 within the space of six months. These properties generally failed to live up to their advertised image and were also far more costly than indicated.
China has witnessed a whole new round of rapid economic growth since 2001. The resultant upgraded consumption structure, progressive urbanization and increasing bank deposits have led to a disproportionate escalation in house prices, particularly in large cities such as Beijing, Shanghai and Shenzhen. Within the year since Zhu Xintao's decision to buy an apartment, property prices have continued to rise. The amount he planned to spend on an apartment, therefore, has appreciably shrunk in value. The average annual family income in Beijing in 2006 was RMB 30,000, while the average housing price was 20 times that, according to the Beijing Statistics Bureau. This is a disparity far in excess of the four-fold difference generally regarded as reasonable.
Exorbitant housing prices have created the "housing slave" phenomenon - people who spend more than half their income on mortgage repayments. This self-imposed frugality severely affects their quality of life, as it inevitably degenerates to one of "all work, no play." The "housing slave" community in China expands year by year.
Zhu Xintao is fortunate enough not to be among this social group. His parents are retired government employees who have always had a stable income and sound social benefits. This enables them to act as his financial backup. Zhu doubts that his future will be as secure as theirs. He faces the daunting task of accumulating savings adequate to cover medical expenses and education costs for his family, not to mention possible unemployment and, of course, his and his wife's old age. Zhu is sympathetic to "housing slaves," their situation being not too distant from his own. As he points out, "If they are obliged to concentrate all their financial resources on an apartment, what do they do when an emergency requiring a large financial input arises?"
---
As prices were plainly not about to fall, the young couple decided to dive into the property market rat-race.
---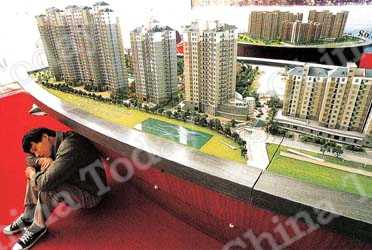 Numbers of so-called "housing slaves" have increased in tandem with rapidly escalating housing prices.
Just ten years ago, Chinese citizens had few housing-related worries. At that time the government operated a subsidy program whereby couples of Zhu's parents' generation were allocated housing by their work unit. It was understood that when the children of such couples grew up and established their own family, the work unit would also allocate housing to them. As the government is no longer involved in the real estate market, Chinese citizens must now fend for themselves and find housing through real estate companies and the bank.
Minister of Construction Wang Guangtao confirmed on October 16 this year that the average per capita housing owned by Chinese urbanites had increased from 23.6 square meters in 2003 to 27 square meters in 2006. Urban dwellers spent more than a quarter of their income on housing in 2006, a proportion expected to increase to one-third in 2007, according to the State Statistics Bureau. Economists cite real estate speculation, in addition to economic factors, as a major propellant of housing price rises. The real estate market has reputedly created more billionaires than any other industry.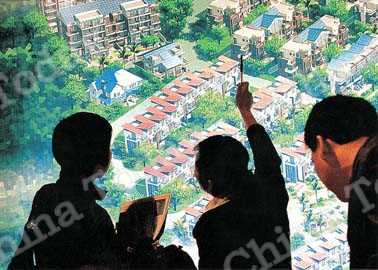 House prices in 70 large and medium-sized cities rose by an average 6.3 percent in 2007. Photos by China Foto Press
---
The Chinese government has made efforts to curb the soaring real estate market through taxation, and loan and land policy leverage.
---
The Chinese government has made efforts to curb the soaring real estate market through taxation, and loan and land policy leverage. The Ministry of Land and Resources states that it will increase its allocation of land for construction of low-rent, economical, and low-and medium-grade commercial housing projects to no less than 70 percent of annual housing construction. By the end of 2006, China had built an accumulative total of 1.3 billion square meters of economical housing, earmarked for 16.5 million medium- and low-income families.
Owner-occupied housing is also a practical alternative for the likes of Zhu Xintao with modest savings. "I would feel more secure and settled in my own housing," says Zhu Xintao, by way of explanation as to why he should enter the exorbitant real estate market. Zhu heaved a sigh of relief when he finally obtained the housing ownership certificate bearing his name. The happiness his new apartment brings him and his wife offsets the pressure of their 20-year financial liability. During this year's seven-day National Day break Zhu took on an extra engineering design task. This was the first time since he began working five years ago that he had not taken a trip on this national holiday. Such is the cost of self-owned bricks and mortar.
---
The House Purchase Hierarchy

The Chinese government's housing commercialization and privatization reforms of 1998 marked the end of its 50-year-long welfare housing system. In the years since, a tiered real estate market has taken shape in China. High-income earners are the main patrons of the impressive' commercial housing projects all over the country. Medium-income families usually go for property in economical housing projects or owner-occupied apartments. The government, meanwhile, has made low-rent apartments available to low-income families and the urban poor.
Economical Housing

This refers to government-subsidized construction of standard apartment buildings earmarked for medium- and low-income families. Such apartments are cheaper than those in commercial housing projects, by virtue of being tax-exempt. The standard government fees applicable are also reduced. Whether or not a particular household qualifies for economical housing is a matter decided by local governments, based on local house prices, income levels and other related factors.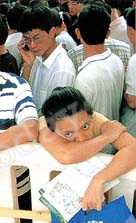 A property sale at a newly completed housing project in Xiamen.