Directory Of Year 2007, Issue 12
Academic Scores: Chief Demon in the Adolescent Nightmare
Year:

2007

Issue

:12
Column:

SPECIAL REPORT
Author:

staff reporter HOU RUILI
Release Date:

2007-12-01
Page:

14-17
Full Text:
Chinese students are traditionally under intense pressure to attain the highest academic scores possible. Ongoing reforms of the exam-centric education system are geared towards alleviating the intolerable psychological strain this puts on them.
NAN Nan is a student at the Beijing No.4 Middle School. At this year's college entrance examinations he scored 565, a full 100 points less than the school average. The highest score of all his fellow students was 698 - only 52 points short of the maximum 750 point score. The Beijing No. 4 school has a century-long history, and is generally regarded as the best middle school in China. It has a sound hardware environment as well as a profound cultural accumulation. Graduates who have since become leaders within the Party, the government and the armed forces, as well as prominent scientists, writers and artists, have given the school an illustrious reputation.
Upon being informed of his academic scores, Nan Nan refused to talk to anyone. To his parents he promised, "I will retake my third-year high school classes and take next year's college entrance exams, with the sole intent of entering Tsinghua University." Tsinghua ranks 167th on the 2007 World University Academic Level list published by the Higher Education Research Institute of Shanghai Jiaotong University. Assessments are made on the basis of quality of education and teachers, research results and scale of the school. As Tsinghua rates number one on the entire Chinese mainland, Nan Nan's parents worried about the psychological effect on their son of his self-imposed quest.
Erstwhile "Model Student"
Nan Nan's mother, a senior high school graduate, resigned from her job after giving birth to Nan Nan. She has since stayed at home to take care of her parents-in-law as well as rear her child. An inveterate perfectionist, she spoonfed Nan Nan until he was three years old, and devoted all her spare time to supervising his education.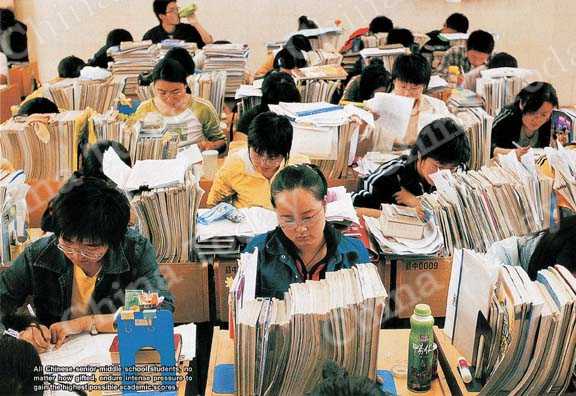 Nan Nan did not let his mother down. He was a good student, of good character and fine scholarship. At primary school he was voted the "three-goods" student (morally, intellectually and " physically) for six consecutive years. Prior to graduating he was voted the municipal-level "three-goods" student of Beijing. Nan Nan told this reporter, "Since early childhood, my mother's most frequent exhortation has been to 'seize every minute to study.' She would repeat it several times a day."
After he graduated from primary school, Nan Nan's parents decided to send him to the Beijing No. 13 Middle School branch, known for its strict approach to schoolwork. Their intention was to give him every advantage towards achieving the highest possible academic scores. Nan Nan was elected monitor in his new school. As previously, all his teachers, classmates, neighbors and friends regarded him as the student most likely to succeed.
Following the onset of adolescence, however, Nan Nan's attitude towards his mother, who had given up everything for him, changed to one of rebellion. Whenever she stopped her household chores to see how he was doing, Nan Nan would say before she could utter a word, "Leave me alone."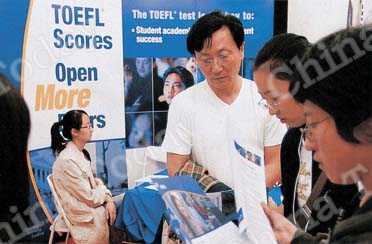 The TOEFL information stand at Beijing's China International Education Exhibition.
---
Nan Nan had effectively "burnt-out" in his efforts to proceed with his studies, choosing instead to excel at computer games.
---
By that time both of Nan Nan's grandparents had died. His mother found cleaning work at a foreign company, a job that was physically exhausting. Fatigue, along with her conservative outlook born of negligible social interaction, made her even stricter with her son. She regarded academic scores as paramount, and would berate Nan Nan if his scores fell even slightly. Consequently, from the second year of junior middle school, Nan Nan refused to talk to his mother. But his attitude towards his father, who does computer-related work at the Chinese Academy of Sciences, was quite different. Nan Nan's father never put pressure upon him to achieve high scores, instead giving him practical guidance on how best to proceed in his studies.
After Nan Nan entered his third year at junior high, his parents attended a parent-teachers meeting at the school. His mother recorded the teachers' speeches for Nan Nan to listen to. With the psychological, as well as academic, support of his father, Nan Nan studied hard enough to satisfy his teachers' stringent requirements. This was at the price of troubled, nightmare-plagued sleep, and the loss of five kilograms in weight. This was hardly surprising, in view of his studying late, often till midnight, each day and taking no holidays. He excelled at his studies, and ranked sixth in his school at the senior high school entrance examinations. Nan Nan was one of 50 graduates from his school that enrolled at the Beijing No. 4 Middle School.
Excess-Pressure Induced Study-Fatigue
Nan Nan, however, had effectively "burnt-out" in his efforts to proceed with his studies at this well-regarded senior high school. He completely lost interest in studies, choosing instead to excel at computer games. After attending a lecture on American culture he then became interested in break dancing. His enthusiasm reached a pitch that prompted him to dye his hair blonde, wear Korean-style grunge trousers and sign up for a break dancing course. Nan Nan also often invited his former classmates out to dinner, spending as much as RMB 2,100 in one month on these frequent treats. He had still not reverted to his normal assiduous self by the second year of senior high, when he began to court girlfriends. His academic scores consequently declined even further.
These two years took a heavy toll on Nan Nan's parents. Just the mention of his name would send Nan Nan's mother into a despairing rage, while his father simply smiled helplessly and kept quiet. In order to maintain superficial peace, both parents exercised restraint, but at great cost to their relationship. Stony silence reigned in the household, broken only by spats and quarrels. Nan Nan's father told this reporter, "We had no idea how to manage our son, and were deeply conscious of having disappointed his teachers and school."
Nan Nan began to study in earnest once more at the beginning of the third year, and the imminent onset of the college entrance examinations. But he had already lagged too far behind. His above-average intelligence was insufficient for him to live up to the original expectations of him. His teacher commented, "Although Nan Nan did not get high scores, he has extensive interests, and is capable." He nonetheless failed the college entrance examination to a key university.
Foreign University Fee Dividends
Retaking third-year senior high school classes requires, in addition to perseverance, payment of RMB 30,000 in tuition fees. Unsure of the benefits of this course of action, Nan Nan's parents took the advice of a friend in Canada who told them, "Your son can go to university abroad as long as he passes his TOEFL exam. I'll help you to select a school."
Nan Nan promised to work hard, and began to prepare for the TOEFL exam.
Well-off families often send their children to study abroad to avoid the pressure of the college entrance exam (not to mention the shame of failure). Nan Nan's father believes, "Attending a foreign university is the best way out for my son. Unless he attends a famous university in China, it will be difficult for him to find a good job sufficiently well paid to ensure his future security. The cost of sending him to a foreign university is high, but could pay dividends. It will give him good life experience and, who knows, he may even become a transnational talent." Hope, as they say, springs eternal. The couple is currently accumulating the funds necessary to send their son abroad to study.
---
China Reforms Its Exam-centric Education

As from September 1, 2007, first-year students at senior high schools in Beijing study a reformed curriculum, comprising modularized courses and more attainable goals. Students now select from among courses that have more practical applications. The teacher's role has also changed from one of instilling knowledge to that of giving guidance to students' self-regulated study. Required courses comprise 108 class hours of research for first- and second-year students, and 54 class hours for third-year students' first semester, according to municipal education commission regulations. During this period each student must score at least 15 points in each of three topics. Projects comprising extensive topics and long periods of study are undertaken in the first and second years. Third-year students conduct psychological, physical and intellectual research into the effectiveness of their manner of study, in order to formulate the most effective study approach.
Comprehensive evaluation of quality, in addition to great changes in teaching modes, is a main aspect of curriculum reform within senior high education. This means that a high academic score is no longer the students' sole criterion. First-year and second-year senior high school students take part in no less than 10 workdays (80 hours) of community service, according to municipal education commission regulations. This includes helping the community to deliver letters and organize sports, arrange recreational activities among community residents, escort the elderly and disabled, take care of children, do household chores for hospital inpatients and the disabled, clean furniture, and participate in community management. Senior high school students participate in no less than one week of social practice that includes visits to social organizations and departments and investigations into historical and cultural heritage, as well as issues of social concern. They also take part in social activities relating to public welfare.
This evaluation system is computerized, recording students' progress at every stage. This provides a sound social and practical basis for students about to enter university.
Schools also set up growth blogs for students that comprehensively evaluate ten aspects of student quality. They provide a means for students' parents to monitor their overall performance.
Developing Vocational Education to Increase Student Employment Skills

Since China popularized nine-year compulsory education, less than half of junior middle school graduates carry on to senior high school and university, while more than half of graduates receive secondary vocational education before joining the workforce. About half of senior middle school graduates continue their studies with the intention of entering university, while the other half receives higher vocational education. The majority of students within the younger generation, therefore, receive secondary or higher vocational education prior to seeking employment.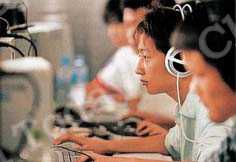 Students often find computer games an effective way of offsetting academic pressure. Photos by China Foto Press