Directory Of Year 1960, Issue 7
Hail the Japanese People!
Year:

1960

Issue

:7
Column:

ARTICLES
Author:

LI TEH-CHUAN
Release Date:

1960-07-01
Page:

2,3
Full Text: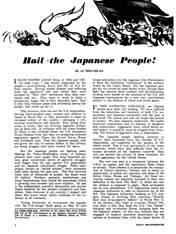 I HAVE VISITED JAPAN twice, in 1954 and 1957. On both trips, I was deeply impressed by the people - hard-working, brave and full of love for their country. Having reaped disaster and suffering from...
Please login first!