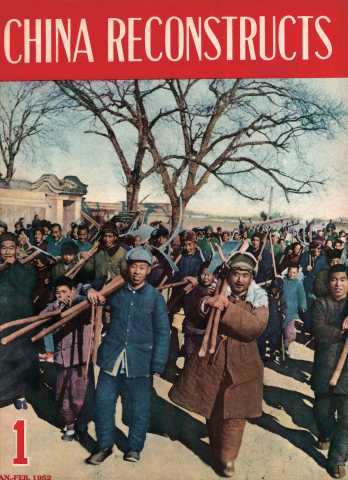 Directory Of Year 1952, Issue 1
Our Contributors
Year:

1952

Issue

:1
Column:

OTHERS
Author:
Release Date:

1952-01-01
Page:

53
Full Text: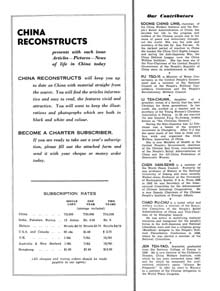 SOONG CHING LING, chairman of the China Welfare Institute and the People's Relief Administration of China, has devoted her life to the progress and welfare of the Chinese people and to the cause of peace and democracy throughout the world. She was the wife and secretary of the late Dr. Sun Yat-sen. In the darkest period of reaction in China she headed the China Civil Rights League. and during the Anti-Japanese War, the China Defence League (now the China Welfare Institute). She has been one of the Vice-Chairmen of the Central People's Government of the People's Republic of China since its establishment in 1949.
FU TSO-YI is Minister of Water Conservancy in the Central People's Government and a member of the National Council of the People's Political Consultative Conference and the People's Revolutionary Military Council. *
LI TEH-CHUAN, daughter of a preacher, comes of a family that has been Christian for three generations. In her youth, she worked as a teacher and as secretary of the Young Women's Christian Association in Peking. At 29, she married the late General Feng Yu-hsiang, widely known as "the Christian General."
During the Sino-Japanese war, Li Teh-chuan was a leader of the women's movement in Chungking. After V-J day she spent much of her time in child welfare work and organized the Child Welfare Association of China.
She is now Minister of Health in the Central People's Government, chairman of the Chinese Red Cross, vice-chairman of the People's Relief Administration of China and the All-China Federation of Democratic Women.
CHEN HAN-SENG is a member of the World Peace Council. Formerly he was professor of History at the National University of Peking and more recently Walker-Ames Professor at the University of Washington, Seattle, U.S.A. From 1939 to 1942 he was Secretary of the International Committee for the Advancement of Chinese Industrial Cooperatives. He is now Deputy Chairman of the Chinese People's Institute of Foreign Affairs.
CHAO PU-CHU is a noted relief and welfare worker, a member of the Executive Committee of the People's Relief Administration of China and Vice-Chairman of its Shanghai branch.
He was active in mobilizing material resources and manpower for the people's forces in the Anti-Japanese and National Liberation wars and was a religious group (Buddhist) delegate to the People's Political Consultative Conference in 1949, where he was elected a member of the National Committee.
JEN TEH-YAO, dramatist, graduated from the National College of Drama in 1939. He is now director of the Children's Theatre, China Welfare Institute, with which he has been connected since 1947, and for which he composed the well-received children's opera "Always Be Prepared." In 1951. he went to Warsaw as a member of the Chinese delegation to the World Peace Congress.