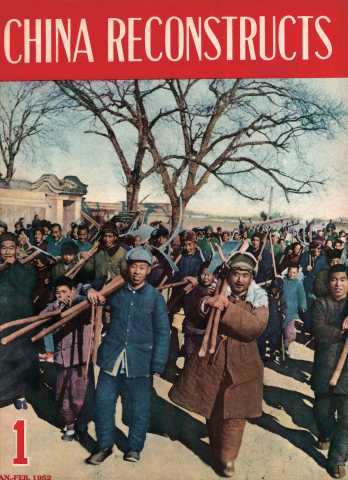 Directory Of Year 1952, Issue 1
WOMEN DRIVE TRAMS IN PEKING
Year:

1952

Issue

:1
Column:

Articles
Author:
Release Date:

1952-01-01
Page:

34
Full Text: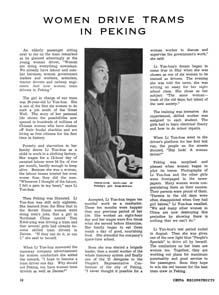 An elderly passenger sitting next to me on the tram remarked as he glanced admiringly at the young woman driver, "Women are doing everything nowadays. We already have labour and combat heroines, women government leaders and workers, scientists, tractor drivers and railway engineers. And now women tram drivers in Peking."
The girl in charge of our tram was 20-year-old Li Yun-hua. She is one of the first six women to do such a job south of the Great Wall. The story of her personal life shows the possibilities now opened to hundreds of millions of Chinese women who have shaken off their feudal shackles and are living as free citizens for the first time in history.
Poverty and starvation in her family drove Li Yun-hua as a child to work in a clothing factory. Her wages for a 12-hour day of sweated labour were 54 lbs. of rice per month, hardly enough to keep alive. Because she was a woman, the labour bosses treated her even worse than they did the men. "Whenever I thought of the future, I felt a pain in my heart," says Li Yun-hua.
Then Peking was liberated. Li Yun-hua was still only eighteen. She learned from the films that in the Soviet Union women were doing men's jobs, that a girl in Northeast China named Tien Kwei-ying was driving a train and that several girls had already become skilled tram drivers in Dairen. "If they can do it, so can I," she said to herself.
When Li Yun-hua answered the tramway company advertisement for women conductors she added the remark, "I hope to become a tram driver one day. Why should not Peking, too, have women tram drivers as well as Dairen?"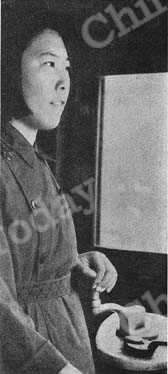 Sharp-eyed, alert - one of Peking's girl tram-drivers.
Accepted, Li Yun-hua began ten months' work as a conductor. These ten months were happier than any previous period of her life. She worked an eight-hour day and her wages were five times what she earned before liberation. Her family began to eat three meals a day of good, nourishing food. She attended the company's spare-time school.
Soon she was elected a brigade leader, then a model worker of the whole tramway system and finally one of the 21 delegates to the People's Representative Conference of the city of Peking. "I never thought it possible for a woman worker to discuss and supervise the government's work," she said.
Li Yun-hua's dream began to come true in May when she was chosen as one of six women to be trained as drivers. The evening she was told the news, she was writing an essay for her night school class. She chose as her subject: "The same woman - trash of the old days, but talent of the new society."
The training was intensive. An experienced, skilled worker was assigned to each student. The girls had to learn electrical theory and how to do minor repairs.
When Li Yun-hua went to the driver's platform for her first test run, the people on the streets shouted, "Hey look! A woman driver!"
Peking was surprised and pleased when women began to pilot its trams. Photographs of Li Yun-hua and the other girls were frontpaged in the newspapers. Many women wrote congratulating them on their success. Their parents were proud of them. "Parents in the old days were often disappointed when they had girl babies," Li Yun-hua recalled. "We and many other women in China are now destroying this prejudice by showing there is nothing that we can't do."
Li Yun-hua's test period ended in August. Then she was given one of the new light blue "People's Specials" to drive all by herself. The conductors on her tram are women too. Together, they are working out plans for maximum punctuality and good service to the passengers. Soon they hope to win the red banner for the best tram crew in Peking.